*This article originally appeared on Linkedin
Unless you've been living under a rock, or in North Korea, you already know how much mobile browsing is changing the internet landscape. I remember when I received my beautiful all-aluminum-body 1st gen iPhone, how cool I thought I was to have a true smartphone. Then I remember the day only 5 years later when both my parents both got their iPhones (subsequently joined Facebook as well) and it was all of the sudden not as cutting edge.
The rate that mobile internet browsing has grown is unprecedented. With such a gigantic shift I wanted to share real data on what publishers need to understand to take advantage of this continuing shift.
Chances are, if you own a website, your readership has shifted towards mobile over the past 3 to 5 years. According to SimilarWeb's research of 10,000 large sites in 24 categories, showed that 56% of all site traffic was mobile.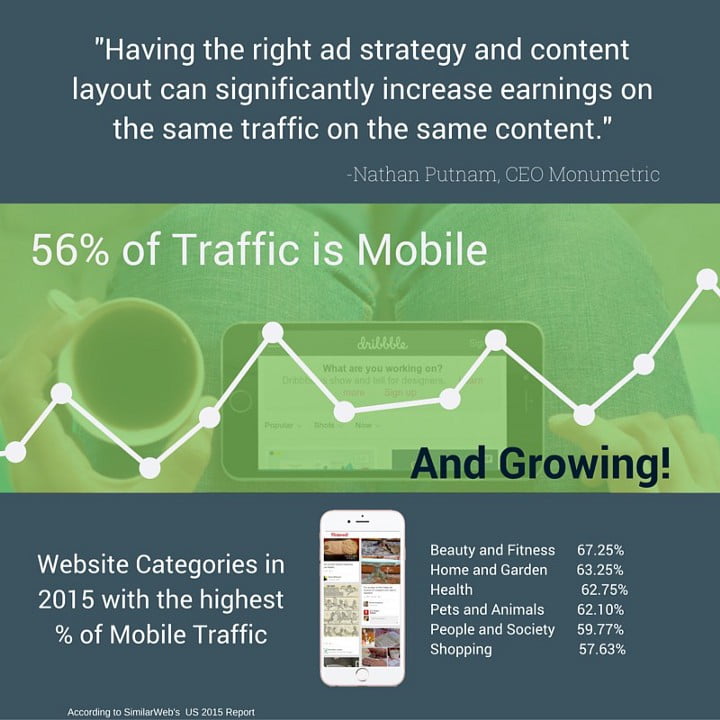 The categories with the highest percentage of mobile visitors are:
Beauty and Fitness 67.25%
Home and Garden 63.25%
Health 62.75%
Pets and Animals 62.10%
People and society 59.77%
Shopping 57.63%
Publishers, especially in these categories, who stop seeing mobile traffic as a channel but as a way of life will be the ones that win moving forward. Think of how differently you behave when you're browsing on mobile versus on desktop or a tablet, your readers are no different. Having the right ad-strategy and content-layout can significantly increase earnings on the same traffic on the same content.
Let's talk about the data for just a few minutes. Mobile advertising will grow from just$19B in 2013 to over $101B by the end of 2016. That is 532% growth in just 4 years. On top of that, it is estimated that in 2016 alone a $25B opportunity of viewing time will be unrealized by advertisers on mobile users.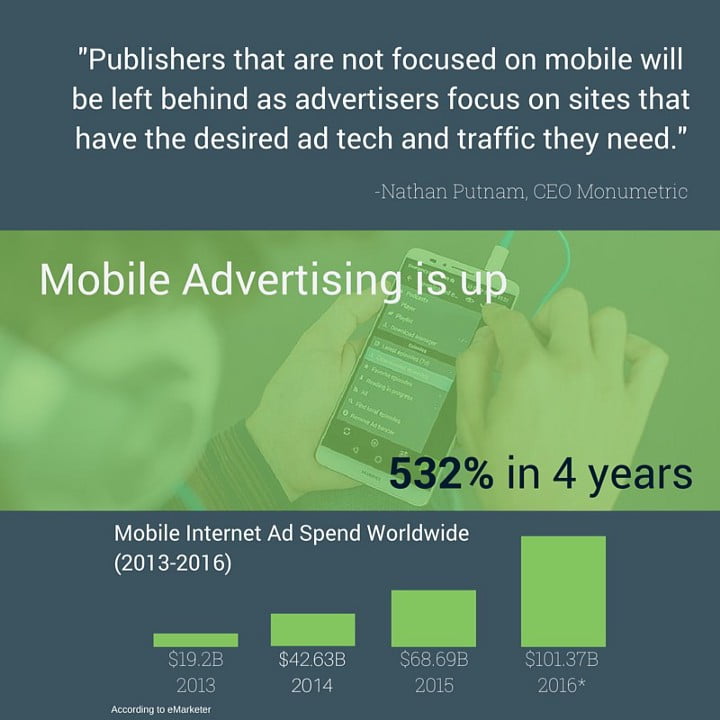 The even better news of mobile growth is that increased mobile browsing hasn't cannibalized desktop browsing, it's just dramatically increased overall internet viewership. The downside is that the advertising industry is struggling to keep up with this meteoric growth and figuring out how to best convert ad inventory to customers. Some technologies that I'm excited about that should bridge that gap are beacon proximity, advanced audience modeling, physical and emotional triggers, improved data science and increased cross-device marketing.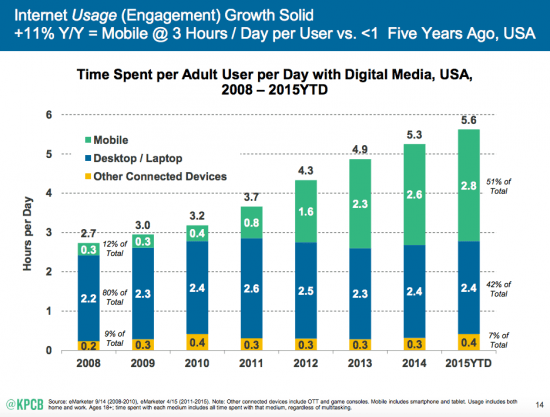 This is a very chaotic time in online advertising as the rapid growth of mobile has outpaced a lot of even the most optimistic forecasts. Publishers that are not in-the-know will ultimately get left behind as advertisers focus on sites that have the desired ad tech and traffic their budgets need. There are already a variety of niches where there is significantly more demand than supply, one of those being programmatic.
One of the largest problems facing mobile advertisers is the lack of attribution transparency, meaning they lack the ability to track which ads, actions, or triggers actually led to a conversion. A major contributor to this is the immature technology of the industry but it is compounded by phones and browser who do not allow access to 3rd party cookie data.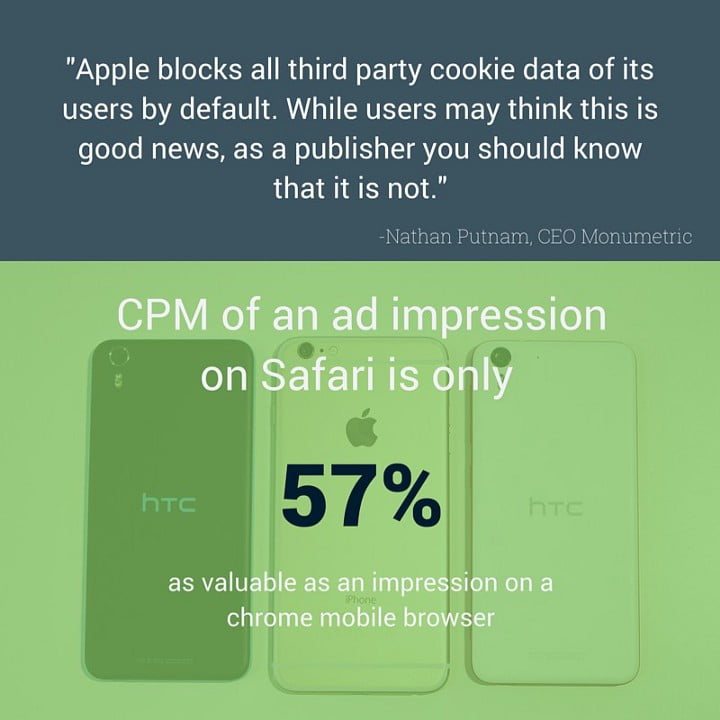 It is widely known that Apple blocks, by default, access to all third party cookie data of its users. An average user of the internet may think this is good news, however as a publisher you should know that it is not. If you make any portion of your living from online advertising, you need to understand that it's negatively affecting your income more than you would think.
The main reason is that very few ad impressions, especially in Programmatic, are purchased anymore without some form of data support. Whether it's targeted simply by geographic/demographic criteria, or much more complex targeting like beacon location or psychographic, this data helps advertisers ensure that they are spending their budgets on the right prospective consumers who are likely to convert. When you remove third party cookie access, these advertisers are limited to only using their own data on individual users. This in turn dramatically decreases the value of any impression on the market.
To put this into perspective, the programmatic data I've analyzed shows that the CPM of an ad impression on Safari (iPhone/iPad/iPod) is only 57% as valuable as an impression on a Chrome mobile browser. (To see what portions of your traffic are using Safari browsers simply use Google Analytics and go to Audience>Mobile>Overview>Second Dimension>User>and select "Browser".) In fact, the only browsers that perform worse in programmatic than any safari browser are deprecated (very old) versions of Internet Explorer, Opera, and Firefox. Making this even worse is that Safari mobile impressions are 69% less likely to be purchased via premium programmatic exchanges.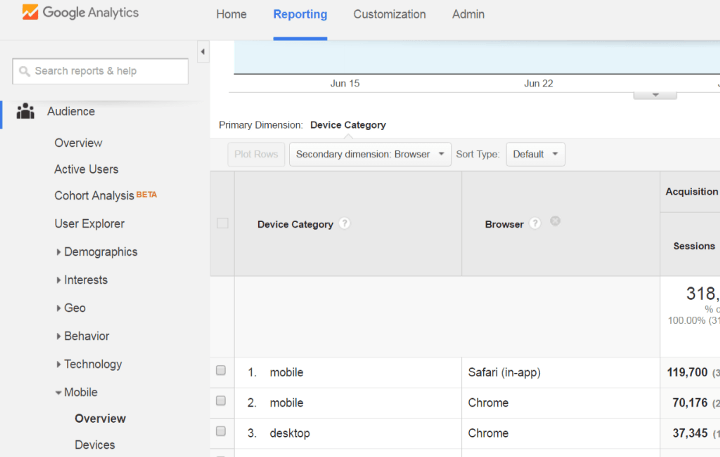 These two factors compound for a 275% drop in contribution from Safari iPhone impressions compared to those on Chrome. So if your mobile earnings are a lot lower than your other publisher friends chances are either your mobile layout needs an overhaul or you have a disproportionate number of Apple customers.
The big takeaway from this data is that if you are the type of publisher that acquires any traffic via paid search, promoted content or social media ads, then focus more of your budget on non-safari traffic and your earnings will increase. Almost guaranteed. Even if targeting by "non-Safari" increases your acquisition costs by 20–30% you'll still come out ahead.
For our larger publishers we offer detailed reporting by device category and browser to help them hone in on the most valuable subsets of your traffic and see which campaigns losing them money and which ones are profitable and scalable.
This is one of the many ways that we at Monumetric help publishers measure what matters. By watching the trends through the lens of hard data, we develop strategies and partnerships that are mutually beneficial for both publishers and advertisers. If you're not already working with us click here and find out if you would qualify for a free site audit to tell you where you can improve and where we can add value.
TL;DR: Mobile is a big deal so get your act together. Safari users are the least valuable type of visitor that comes to your site. We can help you make data-driven decisions that lead to real results.