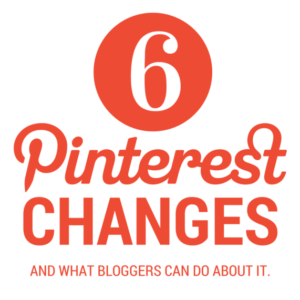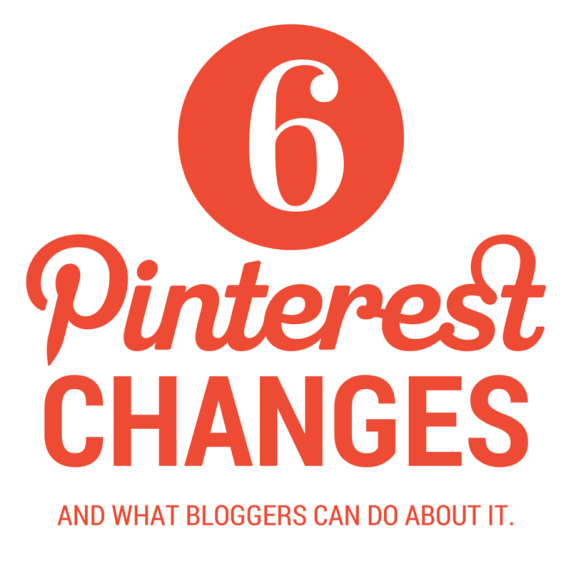 We are excited to bring you a guest post by our friend Susan Wenner Jackson.  She's the VP of content partnerships at Ahalogy, co-founder of the Working Moms Against Guilt blog. Learn more about Ahalogy's free Pinterest tools and sponsored content opportunities for bloggers.
What's up with Pinterest lately?
Bloggers are buzzing with this question since the traffic-driving platform began rolling out some noticeable changes. I wanted to share what's new on Pinterest, well as a few updates on the horizon, so you can adjust your Pinterest strategy accordingly.
What's new
Repin counts
What's new: Pinterest now counts repins and likes on a piece of content throughout all of Pinterest, instead of just showing the counts for a specific Pin.
Why it matters: For Pinners, this change should make it easier to see at a glance how popular or useful a Pin is. For bloggers, your social proof could take a hit if you're relying on individual Pins (with hundreds or thousands of repins, for instance) to demonstrate your value to readers or brands.
What you can do about it: Start shifting from the mindset of individual "Pinning power" (your initial Pin of your content driving the majority of the action) to encouraging and empowering readers and fans to Pin your content broadly. You can directly ask them to Pin your content, and provide easy ways to do that through Pinterest buttons and widgets.
Universal Pin descriptions
What's new: Pins now have descriptions that are created automatically from a variety of sources, rather than being limited to a personal note from the original Pinner.
Why it matters: Your Pin descriptions may not have the staying power you're used to. They could evolve and change as Pinterest refines universal descriptions.
What you can do about it: With Rich Pins, you still maintain control over the title and metadescription that appear with your Pin—so make sure you have Rich Pins enabled and are providing basic metadata for each piece of content.
How-to Pins
What's new: Starting this week on Android and web (iOS to follow soon), DIY and project-oriented Pins from some publishers will reveal a snapshot of the steps right below the Pin image—similar to recipe Rich Pins that preview a list of ingredients.
Why it matters: Pinners can click or tap on any of the steps to get the full instructions and a list of supplies—without ever leaving Pinterest.
What you can do about it: If you want this new feature for your how-to Pins, you can request it here. If you'd rather wait and see how this unfolds, give it a few weeks and ask other bloggers who are using the feature how it's impacting their blog.
Coming soon…
The following updates will be rolling out soon in the Pinterest mobile app, so keep an eye out and be prepared to make some tweaks.
Shorter aspect ratio
What's new: The maximum aspect ratio (i.e., the proportional relationship between the image height and width) for Pins will be reduced from 1:3.5 to 1:2.8.
Why it matters: Anything taller than that will be cut off.
What you can do about it: Adjust your Pin design templates to reflect the new aspect ratio, so your content will be optimized for mobile viewing on Apple devices.
Cleaner rich Pins
What's new: If you have Rich Pins, their descriptions will be hidden in feeds to clean up some clutter.
Why it matters: Written Pin descriptions appear redundant if your site has Rich Pins enabled (because Pinners also see a bolded title and short meta description beneath the image). Soon, this additional text will only show up on closeups.
What you can do about it: Double check your site's metadata to ensure the best title and description are coming through on Pinterest. And keep writing good Pin descriptions, because they can still drive clicks and repins when the Pinner takes a closer look.
New background colors
What's new: White will become the background color on the app, so Pinterest will automatically add a bit of gray to Pins with a white background.
Why it matters: This change should help your Pins stand out, but might give gray Pin imagery (such as drop shadows) a little less contrast.
What you can do about it: Be careful about Pins with drop shadows, gray shading, etc. to make sure they don't fade out in the new mobile view.