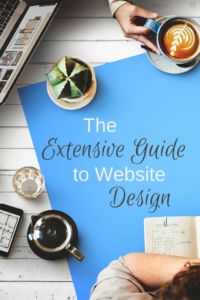 Next to content, one of the most important aspects of a website is design. How a website looks makes a huge impact on whether or not someone stays on your site. It also makes an impact on whether they view one page or several. Having compelling content and a killer title gets readers to your site – design is what determines what happens on your site.
On average, people only spend about 15 seconds on a webpage. You have a very limited window of time to capture a reader's attention. Using principles of design, we can reassure users that they are in the right place and direct their attention to the most important parts of our content.
We're happy to introduce our latest free resource: The Extensive Guide to Website Design. This guide is all about the most important aspects of website design. As publishers, we know we all can't be professional graphic designers, web developers, and photographers. But we can use simple, universal principles of design to create a better user experience.
This guide contains actionable design insights on some of the most asked about aspects of design. Right now, we want to give you a glimpse into some of the strategies covered in this online resource. Here's a sneak peak!
First, the design choices that make the biggest impact on your pageviews are formatting and layout. These have the greatest effect on how readers immediately feel about your page when they land on it. We narrowed down all the different aspects of formatting to the top 7 strategies to optimize your site.
Some topics included in this list are formatting headers and capitalizing on white space. You'll also learn about sidebars and ad placement. Ultimately, you will use these layout strategies to increase shareability and readability.
Another aspect of design we thought important to touch on is photography. Publishers often feel like they need to be professional photographers. If you own a photography website, that may be the case. But for the majority of publishers, you really don't have to be a pro! You can be successful without spending thousands of dollars on expensive equipment.
In this guide, we share universal photography principles. Smartphone cameras are powerful, and using basic design principles it's possible to shoot professional-looking pictures with just your phone. Using principles like the visual triangle, rule of thirds, and perspective, you can create beautiful images. Good-looking images lead to greater shares and ultimately more pageviews.
There's a lot to know about design. But the fact of the matter is, you don't need to be an expert in all of it! You can learn basic principles that will dramatically benefit your analytics. Using the strategies taught in this guide, you will create a better user experience on your site. You will increase the time spent on a page by helping readers navigate their way through our page. And you will create a visually appealing experience.
Check out The Extensive Guide to Website Design today! Don't forget to subscribe for updates. That way you'll be the first to know whenever we release a new piece of content. Content will be released every month, so let us know in the comments if there are any topics you would like us to cover!