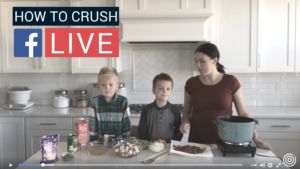 Did you know people spend almost THREE times as much time watching live video over regular video? Or how about that video generates  135% greater organic reach than any other form of media on Facebook?
You could say Facebook Live is kind of a big deal. But going live in front of anyone can be intimidating. I mean you only get one take, there's  no editing, not to mention the camera adding 10 lbs … talk about scary.
We spoke with the gals at Six Sisters Stuff who are the queens of Facebook Live. Their Facebook Live videos have thousands of viewers and have created a huge following. Even the Sisters said in the beginning live video was frightening for them too. We asked Lauren of the SixSisters to share what they do to crush Facebook Live so you too can use Facebook Live to bump your engagement.
BEFORE YOU GO LIVE:
Preparation is key to feeling comfortable and acting naturally.
Plan for your Niche. When planning your live video, you need first to consider what will your audience respond to. Look at your most popular posts and see what type of content your readers respond the best to. Each niche has a different audience. Foodies love to see live one cup recipe videos. Makeup junkies kill for the latest contour tutorial, and fashion bloggers die for a live launch of a new line. What do your viewers want to see?
Different audiences are online at different times. It's smart to see when your followers are online or when they have viewed passed posts. You can find this out in your Facebook analytics. Post when you know someone will see it.
Trust. Another point Lauren brought up which is crucial in having people watch your video, is trust. You have to make sure your audience knows you and trusts you before you do anything different. The first Facebook Live video might feel strange to them, but if you are consistent with your written posts and pictures, they will start to love your videos as well.
Keep it short. Although video is more engaging than a picture or paragraph it's doubtful your viewers have an hour to watch your broadcast. Most videos should probably stay under 10 minutes Lauren says. Keep it quick, clear, and consistent.
Use a tripod! Your viewers will drop like flies with shaky video. Keep your video looking clean. No one wants motion sickness from your video. Buy a simple bubble tripod for just a few bucks for stabilization. You can attach these tripods practically anywhere.
Turn off Distractions. Turn off any extra sounds in your house. You would be surprised what your tiny microphone can pick up. Turn off your fridge, dishwasher, any buzzing electronics, and don't forget your kids! Make sure they are turned off and are not likely to come screaming through your video.  Make sure your phone is in airplane mode when you start recording. If phone calls come in during your broadcast, you live video will be immediately stopped.
Hair up. The Six Sisters found people responded better when their hair was our of their face. If you are cooking or doing makeup, it's a good idea to put your hair up. It's a cleanliness thing, and people want to see your face! Just bee natural, you aren't on TV, people know this isn't a professional production.
Gather your Goods. Have everything you would need within arms reach to make sure everything works. Can you imagine posting a hair tutorial when the curling iron won't heat up or a smoothie recipe where the blender won't start? Talk about #awkward.
 DURING:
Be yourself. People want to see who's behind your site.
Intro. Start with a very quick introduction… people don't necessarily love to listen to you blab, they want to see what you have to show/teach them!
Speak Clearly. Speak loud and CLEAR! Speak slowly, but keep what you say concise. Don't worry about answering the questions as they come in if you don't feel comfortable or have the time. You can answer all responses at the end!
Lighting. Use good lighting. You don't have to set up fancy lights just make sure you have natural lighting on your face and whatever task you are doing.
AFTER:
Respond. Answer or respond to EVERY COMMENT AND EVERY QUESTION right away. The more you engage, the better the post will perform. Go back change the description to your post linking it to whatever item on your site.
Post it. Huh? You're thinking, "Wait, I already posted it when I went live!" Yes, but you can download it and put it on YouTube too! Just click on the video, click on the three dots in the right-hand corner, hit download, save, or choose to embed it on your website.
Party. Why? Because you just crushed your Facebook Live!
After you do one or two, you will realize it's not that hard. It might be scary to start, but think about the possibilities! Sneak an affiliate link into your description or monetize your YouTube version and start bringing in that extra revenue! Facebook Live videos are relatively low maintenance, low production, and low cost,  yet they boost your engagement. So what are you waiting for? We'll see you on Facebook Live!