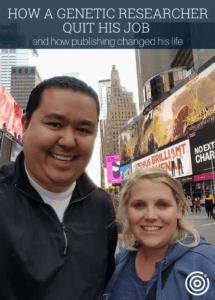 Publishers come from all different backgrounds as do their blogs. Some starting publishing as a hobby, others saw something bigger.  John Huntinghouse was defiantly the latter. Hear his inspiring story of risking it all one post at a time.
Please introduce us to your blog.
I started blogging on LDS S.M.I.L.E. with my wife a just a few years ago in November of 2013. We just wanted a way for us to talk about our religion but also do so in more of a light-hearted manner.
What was your job before, when did you quit, and why?
Before I started blogging full-time I worked for Intermountain Healthcare as a cardiovascular genetic researcher. I loved my co-workers and boss, but I didn't find fulfillment in my position nor did I think it suited my overall strengths and skill sets that I had to offer. Also, it's a large corporation and as such you deal with the slowness that comes when working for a corporation. I get why it has to happen that way but it simply wasn't for me.
I quit at the beginning of 2015 mainly for two reasons:
1) I wanted to create time and flexibility for myself and my family.
2) Capture more of the value that I was creating in market as opposed to having a corporation/firm capture that value.
Did you have to take a pay cut?
Yes and no. I make the same amount as I did in my full-time job but before I quit. However, as I was making money from both my full-time job and the blog when I quit, I had to take a pay cut in the sense that I no longer had income from my full-time job.
My friends and especially my mom would ask me "why not just work at both places like you have?" which was an option and I easily could have made good money going that route.
But ultimately I didn't want to work at a place that I couldn't dedicate myself to and I wanted to spend more time at home with my family.
"I've come to realize that money is not the end all be all. Time and flexibility is ultimately what is most important to me and blogging full-time has given me a greater opportunity to harness both."
A lot of my family thought about how risky the decision to quit was but really it wasn't that risky at all. Worst case situation of quitting is that I don't make enough money and I have to go back with my MBA and find another job and work full-time while blogging on the side, making a pretty good income.
However, the worst case situation in not pursuing blogging full-time is that I never get to find out what the "ceiling" truly is and if that ceiling is high (which it can very well be), I lose out on that potential income plus I lose out on all of the time and flexibility I was talking about earlier. Put in this light, the decision to quit to go blogging full-time was not a very hard one at all.
How did your coworkers respond? How about others (family) in your life?
My coworkers realized that I had kind of checked out of my current job and knew that I was moving on but…
"When I told them that I was moving on to go blog, they all did a double take. They were like 'seriously'?"
Both my family and in-laws have been supportive. My mom would have freaked out had I told her what I was going to do before I did it but that's exactly why I kept it secret until I actually did quit. She's still worried even now, mainly because she can't see how someone could make money off a website. But she's coming around.
Have you always been entrepreneurial?
No, not always. Originally the plan was to go to medical school but after I decided to not go right before I started, I didn't know exactly what I wanted to do. During the MBA program at the University of Utah, I took a Venture Foundations class and it changed my life forever. That sparked the entrepreneurial bug and helped me hone my focus as to what I wanted to do and how to go about doing it.
What is your traffic like and how did you grow it?
We get a million pageviews a month. We grew it mainly utilizing our own platform that we had grown (our Facebook Page) and piggybacking off much larger websites and blogs.
What advice would you give to bloggers who want to grow their traffic?
If you want to grow fast, there is really only two ways of doing it. Either pay your way through or find a larger engine. As almost all bloggers don't have the money to buy their way through, finding a larger engine to grow your blog quickly is the key. Obviously, this is much easier said than done but it's the only way to grow a new or smaller blog quickly.
What part do you do and what does our wife Kara do? Has it always been a joint venture?
I do all of the backend stuff on the blog and we collaborate on almost all of our original posts that we do. It's always been a joint venture with the blog and it's been a great ride.
How did Monumetric factor into your decision to become a full-time blogger?
I was going to quit either way but Monumetric helped us make that jump sooner than later because of the great results we were seeing in the revenue we were generating from them.
The RPM that we are achieving with Monumetric is about 30% higher than what we were getting from Google Adsense.
We've tried several networks but the dashboard and support, along with the revenue increase definitely made the jump easier and allowed us to do it sooner.
In what ways have you successfully collaborated with other publishers?
The best way to get to know other publishers is to hang out where other publishers hang out. Finding blogger groups on Facebook and going to blogger conventions has always been a great place to meet up with them. Then, once you meet with them, get to know them and look for ways to help them out first before asking for any help from them regardless of how big or small their blogs may be. You never know when those connections will come in handy down the road.
What's your favorite part of being a full-time blogger, so far?
The flexibility and time that it allows me to do what I want to do has been awesome. All of this talk about working from home especially in a blog-like setting is awesome because I can blog from wherever I happen to be. Also, if I know that I'm going to be gone for a few days or something is going to prevent me from posting, I can just work a bit harder and schedule out those days to free up time later.
Another thing that I love about blogging specifically is that it gives me a platform by which I can share a message that is important to me to other individuals. It allows me to put forth my own ideas and thoughts and help shape the thoughts as well.
Thank you so much John for sharing some of your journey with us! If you want to be next, please email marketing@monumetric.com to arrange a guest post or interview about how blogging changed your life.