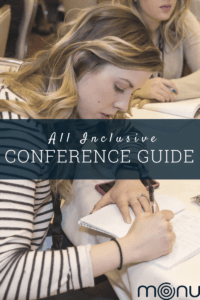 We are getting pretty pumped for some upcoming conferences especially one, in particular, that may or may not be happening say February 3rd and 4th in Salt Lake. Ok, it may, ok it is, and if you haven't heard about it don't worry it's coming.
With so many conferences to learn at and opportunities to network, there can be a lot to think about. Even as a company we have to pick and choose which conferences will be most valuable for us to attend. Once we are there, we got to be ready to get the most out of the conference.
Having attended and hosted countless conferences and interacted with thousands of bloggers, we know what you need to know to use conferences to grow your website and business.
And we are about to share all those juicy bits of information with you.
First, let's talk about why conferences are such a big deal and whether they are worth attending or not. 
Sure there are a lot of articles, webinars, podcasts, tools, and blogs that share great information on how to improve your site and they are often free. So why spend money to travel to a conference to sit in a chair and listen, when you could be getting the same information snuggled up in your bed?
That is a very fair question. Just listen.
We all love our publishing community. No matter where you come from in the world or what you blog about, we are all connected. Some of us have had years of experience while others are just kicking off their first site. Conferences allow bloggers at all different levels to teach one another and learn from experts.
Although technology continues to bridge the gap between reality and the digital world, there is something huge to be said for meeting and learning from each other face to face. These interactions ignite not only awesome connections and friendships but help us learn from people that have walked in our shoes who can add to our publishing journey.
Each blog conference is specifically designed to help it's attendees. Their speakers are hand selected to provide value to your business. The problem is knowing what is, and what is not, valuable for your site.
Here is a list of questions to ask yourself when deciding what conference to attend.
What do you hope to gain from the conference? Will it add value to your site/ business?

Would you learn something here you couldn't / haven't elsewhere?

Do you need to improve your networking?

Are you needing a boost of inspiration for your site and work?




Wondering what to do next?

Looking for more followers and connections?

Do you want to have fun/ make new friends?
Blogging conferences are valuable because the industry is always changing. As bloggers, we have to stay on top of it all, or all we've worked for will come crumbling down. By hearing from the experts who are ahead of these changes we can keep or business alive.
See what types of conferences we found the most helpful. Here is a quick recap of some of the conferences we've as well as SixSistersStuff have been to in 2016:
Minnesota Bloggers Conference – This one-day conference is held at a local university.  It was well suited for learning, but not for general gathering.  It is locally focused for the Minnesota blogging community and attracted mostly local people.  Accommodations were all on your own.  For advanced to novice bloggers with a focus on learning to blog or blog better.  Very few sponsors, but well organized and run well.
Everything Food Conference – For Food bloggers only.  This was their first year, and they had good sponsors and speakers.  It is a 3-day conference and is a little expensive with extra costs for additional workshops.  It was well organized, and there was a lot of energy, it was pretty well done.
Blended– Arizona food bloggers conference.  Hosted in the small conference area, not much room for sponsors, so there were few sponsors to connect with. There were only about 100 bloggers.  This conference has been going for at least five years, so they are well organized and took good care of the attendees.  Small sessions, so access to speakers was also good.
Blogher Food Conference – A 2-day conference that changes locations every year.  This is a large crowd conference with a thousand or so attendees.  Not ideal for networking, but meant for big name blogs to get attention or famous keynote speakers.  The sponsors were interesting, and there were a lot of them, but many were local or not easy to figure out how to work with.  More of a show than an educational conference.  The sessions we attended were led by inexperienced or small bloggers.  Lots of people but not great networking available.  Just a crowded conference.
BYBC – Two full days of education with different tracks for beginners and advanced.  Packed with education and networking opportunities.  They also gave way a grand prize of a car (leased).  The evening was a movie premiere which was amazing as the producers and actors were at the conference.  They have been doing this for five years and knew how to run a conference.  Great keynotes and speakers that covered all the topics.  They also make the sessions available afterword for viewing on-line because you can't attend all 25+ sessions.
(See we aren't the only one's who think BYBC is worth attending!
And if you are looking for conferences in 2017 here is a great list to get you started. 
http://iblogmagazine.com/conferences/
As we've said, we've been to a lot of conferences which gives us the chance to give back from all of our years of experience. We do that by throwing one of those conferences you do not want to miss.
It's Build Your Blog Conference and just see what you'll learn in 2 days of hearing from industry experts.
How to Organize Your Blog with a Master Spreadsheet

Back to the Blogging Basics with Six Sisters Stuff

How to Monetize Your Blog with Monumetric

20+ Experts

And don't forget…
                                           THE MOST BUMPING AFTER PARTY!
Just see who will be there and why you WON'T WANT TO MISS THIS CONFERENCE!
Alright so now let's say you've sifted through a million conference site and asked yourself these questions over and over. You've decided on a few conferences that will be worth your while. Now how do you walk through a conference door ready to be successful? Fret not, we've been to our share of conferences and will give you a summary of what to do to get the most out of a conference. To see our extensive guide on what to do at a conference see our EBOOK.
NETWORK LIKE SPIDERMAN
You want your webs to everyone you can reach and to stay stuck.
Before you even set foot in the conference, you can find out who will be attending on the conference page. Some conferences have an app. Download it. Once you have these names get crazy with the "Follow" button and connect to these people via social media. Join conference groups and post in them! Need a roommate? This is a great place to find one.
Get your stalk on and get to know other attendees and speakers. Figure out before hand what you want to learn and from who.
Once you're there, remember those faces and their names and introduce yourself! Everyone will be meeting new people and doing the same thing you are, so you have nothing to lose! Trust us; you'll regret not at least meeting everyone on your list.
SELL YOURSELF
Get your conference goodies ready to give. This means you have a ton of bomb business cards, a stellar media kit, and you know what to say to sell your brand.
Make sure all of your marketing materials are up to date, attractive, and clearly represent your brand. Everyone there will be meeting lots of people and won't be able to remember every handshake or every smile from everyone. Do whatever you can to be remembered. In a good way that is. Rehearse what you want to say and be confident doing it!
You would think we don't need to say this, but we do. Dress to impress. Now we aren't saying you have to wear a gala gown or tux, but you want to make a good clean impression. Look at past conference pictures and dress as well as the best-dressed person you can find. You'll never regret looking good.
SECURE YOUR GAME PLAN
Conferences usually last only a few days and are JAM PACKED with opportunities to learn and connect and maybe even score a gift or two. To maximize your time you need a full proof game plan.
First, don't  spend time stressing out about your site while you are trying to learn. Prepare for the time you will be spending away from your site. Have your site content and social media content ready and pre-scheduled before the conference.  
DON'T FORGET to find little slots in the conference schedule dedicated to checking your site and of course sharing what you are learning with your readers via social media. It's crucial you stay connected and keep your followers engaged as well. Don't drop those connections by ghosting all your readers.
Every conference comes with a schedule. Study it. Know what you want to be there for and when you will need to be engaged. A lot of times there are multiple classes happening at the same time, so you need to do your research before hand, so you know who you want to hear from.
Oh, and networking doesn't start and stop before the conference.
You're confident, cool, and have a lot to offer.  You not only look fabulous but your business pitch is on point. Don't let that hard work go to waste without following up with those new connections. Try to make time to meet with those special individuals you come in contact with that will be especially helpful to your blog.
Lunch anyone? At least have a pen or your phone ready to write down these names and their information.
Don't forget to find the best way for you to take notes BEFORE you come to the conference. You will, of course, get some swag notepad and pen but that isn't necessarily the best way for you to file your information. Bloggers work online, and many make no exception when it comes to note taking. Whether you use the old fashioned paper and pen, Google Doc, Apple Notes, OneNote or any other program, make sure you know before hand what works best for you.
PACK IT IN
Ok let's be honest, packing to go anywhere can be a hassle. No more stressing when you realize your toothbrush is MIA or breaking out into sheer panic when your phone dies, and you left your phone charger at home. We want to make sure all of that doesn't happen, so we've created an all-inclusive packing list so you can be ready for any conference coming your way!
TECHNOLOGY ( obviously most important)
Smart Phone

Laptop

Tablet

Headphones

Camera (if you want)

Charger

Lenses

Memory Cards

Filters

Apple Watch/ Fitbit

Media Kit

International power adapters

Notebook

Extra Pens
CLOTHES
Travel Clothes

Durable Classy Bag

2-3 Conference Outfits

3 tops

3 pants

cute/comfy shoes

Sweater(s) (conference rooms can be freezing!)

Weather Gear

Umbrella

Coat

Sunglasses

Gloves
TOILETRIES
Toothbrush

 Makeup

Shine Proof Powder ( be ready for those pictures)

Deodorant/ Perfume 

Hair Supplies
EXTRAS
Workout clothes

Dress/ Night Out Outfit 
Ok, you know how to pick a conference, what conferences are worth while, how to prepare, and even what to pack! You're set to CRUSH IT at your next conference. We've said it before, and we will say it again, these conferences are seriously worth your time and energy. We know you can grow your blogging business because we've seen it!
So go out and get your conference on.