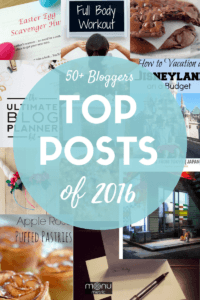 [vc_row][vc_column][vc_column_text]It's that time of year again. The air is filled with the buzz of future goals and the chatter of reflection. Another year has come and gone.
A New Year brings plenty of new opportunities to improve. So WE SHOULD be joining everyone and their dog in setting goals, and for a good reason.  But before just jumping on the bandwagon of not drinking diet coke and hitting they gym,  can we take a moment to celebrate maybe?
To make a worthwhile goal you have to look at where you are and where you've been. Our publishers have killed it this year, and we want to share their success to help you set better goals for your sites.
We asked our publishers to share their top posts of 2016. Take a look at these 50+ top posts and see what worked for these publishers and what you can do to increase your blogging business in  2017.
[table id=3 /]
Well now that you've seen the best of the best run with it and  LET'S MAKE 2017 THE BEST BLOGGING YEAR YET!!!