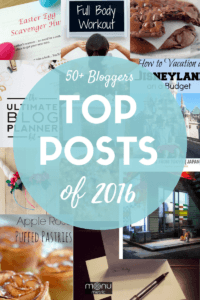 It's that time of year again. The air is filled with the buzz of future goals and the chatter of reflection. Another year has come and gone.
A New Year brings plenty of new opportunities to improve. So WE SHOULD be joining everyone and their dog in setting goals, and for a good reason.  But before just jumping on the bandwagon of not drinking diet coke and hitting they gym,  can we take a moment to celebrate maybe?
To make a worthwhile goal you have to look at where you are and where you've been. Our publishers have killed it this year, and we want to share their success to help you set better goals for your sites.
We asked our publishers to share their top posts of 2016. Take a look at these 50+ top posts and see what worked for these publishers and what you can do to increase your blogging business in  2017.
| Blog/ Site Name | Top Post URL | Notes |
| --- | --- | --- |
| Creative Green Living | http://www.creativegreenliving.com/2013/04/farm-girl-apron-tutorial-from-recycled.html | This was most popular post for the third year in a row! |
| Our Thrifty Ideas | http://www.ourthriftyideas.com/2016/05/freezer-prepped-crockpot-dump-meals.html | This is my top post that went live in 2016, not necessarily my top post overall. |
| The Mom of the Year | http://www.themomoftheyear.net/2016/12/son-won-turkey-trot.html | Full of heart and getting tremendous interaction across all channels! |
| Really, Are You Serious? | http://www.reallyareyouserious.com/my-little-red-headed-unicorn/ | This has been my top post the past two years. It really resonates with many parents and people. |
| WDW Prep School | http://wdwprepschool.com/disney-world-crowd-calendar-for-the-2016-2017-school-year/ | People want to be able to visit Disney World when it's not packed, and this post helps them plan their trip dates. |
| Penny Pincher Jenny | http://pennypincherjenny.com/ways-for-deep-cleaning-your-home-in-just-7-days/ | Who doesn't want to deep clean their house fast?? This was my top post of the year and always top every month! |
| Living Well Mom | http://livingwellmom.com/2015/10/dear-mom-of-a-child-high-functioning-autism/ | Near and dear to my heart, this post has resonated with thousands of moms and was one of my top posts this year. |
| Little Gold Pixel | http://littlegoldpixel.com/2016/01/20-free-fairy-tale-printables-for-kids-rooms/ | I rounded up a bunch of free fairy-tale art for kids rooms to make it easier for parents to decorate on a budget. |
| The Happiest Blog on Earth | http://www.thehappiestblogonearth.com/2015/12/10-disneyland-meals-for-10.html | 10 Disneyland Meals for $10, lists 10+ meals you can buy at Disneyland for about $10. People love reading about money saving tips for Disneyland on my site. |
| Shaping Up To Be A Mom | http://www.shapinguptobeamom.com/full-body-workout-home/ | Great at-home workout that can be done in your own living room, no equipment required! |
| Storypiece | http://www.storypiece.net/2016/03/25/more-easter-egg-scavenger-hunt-clues/ | This post is a sequel to my most popular post ever... An Easter Egg Scavenger Hunt for teens. I enjoyed providing even more fun for my readers based on a post that was already popular and I love the continual feed back of how these hunts bless families that play them. |
| Tikkido | http://tikkido.com/node/998 | |
| Eat Pray Run DC | http://eatprayrundc.com/the-hansons-method-training-plan-a-review/ | This was the post that was the most popular in 2016 - a review of the Hansons Method for Marathon and Half Marathon training. |
| The Mommy Bunch | http://mommybunch.com/getting-started-with-a-cricut-explore-air-first-project-ideas/ | This has quickly become my most popular post for the year and I just published it last month. People love learning how to do DIY projects! |
| Happy Home Fairy | http://happyhomefairy.com/extreme-pumping-tips-and-tricks/ | This is my top post overall! This post answers every new mama's pumping questions! |
| Decor Adventures | http://www.decoradventures.com/how-to-really-clean-your-kitchen/ | This was my most-traffic post published in 2016. It comes with a free checklist printable to clean your kitchen in 8 steps. |
| Faith Filled Parenting | http://faithfilledparenting.com/4-baby-sleep-schedules-that-work/ | This is my top post overall and it came from 2016. It has FREE printable sleeping and feeding schedules for baby's first year. |
| Happy Deal - Happy Day! | http://happydealhappyday.com/30-day-budget-bootcamp/ | This gets me traffic all year - but will especially get a boost after the new year when we are done spending and need to budget! |
| Amanda Linette Meder | https://www.amandalinettemeder.com/blog/2016/1/10/10-of-the-best-spiritual-blogs-out-there-that-arent-mine | This is a post that shoutouts to other colleagues of mine. |
| Finding Silver Pennies | http://www.findingsilverpennies.com/2016/06/summer-home-tour-2016.html | |
| Overstuffed | http://www.overstuffedlife.com/2016/05/10-signs-your-child-has-toxic-friend.html | This was my top post published in 2016. It went viral for a while on Facebook, and while it was difficult to share due to it being a real life situation with bullying and my daughter, it helped a lot of people and I was able to connect with many readers who were experiencing similar situations. |
| Designer Blogs | http://www.designerblogs.com/ultimate-blog-planner-kit/ | This is a blog planner I created to help bloggers get organized and grow their blog. It has been downloaded and enjoyed by over 30,000 bloggers. |
| To Simply Inspire | http://www.tosimplyinspire.com/apple-rose-puffed-pastries.html | |
| Keeping Life Sane | http://www.keepinglifesane.com/a-punishment-that-works/ | |
| Refined Rooms | http://www.refinedroomsllc.com/a-5-step-process-for-organizing-any-space/ | This is a post that I link to the most throughout my site, since it's flagship content for my niche. |
| CalmHealthySexy | http://calmhealthysexy.com/essential-oils-for-sex-and-intimacy/ | This post sends me more search engine traffic than any other post on my site. |
| The Mama Maven Blog | http://www.themamamaven.com/2016/09/25/butternut-squash-and-apple-soup-instant-pot-recipe-whole-30-compliant/ | This recipe caught on fire! It's super healthy, Whole 30 Compliant, and I adapted it for the Instant Pot. |
| La Passion Voutee | http://www.lapassionvoutee.com/50-best-african-print-dresses/ | This is my most popular post from this year. It was posted in August and went viral in September. It has since been shared over 109,000 times |
| Mom Home Guide | http://momhomeguide.com/fall-front-porch-tabletop-decor/ | For posts that were written in 2016, this was my top post. It was a sponsored post for Social Fabric, and Social Fabric bought a Facebook ad for it, which generated a lot of traffic. |
| MamaGourmand | http://www.mamagourmand.com/chewy-fudgy-flourless-chocolate-cookies/ | By far this is my most popular recipe...maybe because it's naturally gluten free, the photo, big repins on Pinterest? |
| Eclectic Momsense | http://eclecticmomsense.com/2016/08/frosted-mason-jar-desk-organizer.html | |
| Ally's Sweet & Savory Eats | http://www.sweetandsavoryfood.com/2012/02/million-dollar-casserole.html | |
| Just a Little Creativity | http://www.justalittlecreativity.com/2016/07/mid-century-modern-desk-makeover.html | Furniture makeovers always do well, but this was the one that received the most views this year, thanks to an email feature with Hometalk. |
| Simple, Sweet & Savory | http://www.simplesweetsavory.com/chilis-copycat-white-spinach-queso/ | This was my most popular post for 2016 and for good reason. When I tried the dip at Chili's, I knew I had to recreate it at home! |
| The Fit Fork | http://thefitfork.com/sweet-potato-cauliflower-mash-more-healthy-recipes/ | Most popular post for a couple years now, also has 100k pins (my most) and irony is that I threw the recipe, photo and everything together almost as an afterthought. |
| ClassyCurlies | http://www.classycurlies.com/2013/08/natural-hair-care-5-signs-of-healthy.html | This has been one of my most popular posts within the last couple of years! |
| Inspiration Made Simple | http://www.inspirationmadesimple.com/2012/03/popsicle-stick-bracelet-with-custom-gift-box/ | This is an old post that I revived my creating a new collage and pinning - it took off like wildfire and has become my number one post of the year! |
| Chaos Is Bliss | http://www.chaosisbliss.com/timesaver-tip-laundry-hack/ | It blew my mind why this went viral on Pinterest, several times over. Perhaps the main image? Who knows but I'll take it! |
| GetdatGadget | http://www.getdatgadget.com/double-storage-space-refrigerator-sliding-drawer/ | A simple device for creating more storage space and organizing your refrigerator. Also our top pin for 2016 with over 75k repins. |
| Love to be in the Kitchen | http://lovetobeinthekitchen.com/2016/02/23/no-bake-monster-cookie-energy-bites/ | This was my most popular post by a landslide! People love healthy treats that still taste good! |
| Thrifty Jinxy | http://thriftyjinxy.com/hashbrown-hamburger-casserole-veggies-cheese-recipe/ | |
| Saving Cent by Cent | http://savingcentbycent.com/2016/10/14/disney-vacation-on-a-budget/ | This was my most popular post of 2016. Readers wanted to know how to vacation at Disneyland on a budget and to read the tips of how my family did it on a budget. |
| Our Small Hours | http://www.oursmallhours.com/daily-schedules-for-stay-at-home-moms/ | This has been my most popular post year after year. I've updated it a couple of times over the years to keep it evergreen. |
| Traveling Cats | http://www.traveling-cats.com/2016/03/cats-from-tokyo-japan.html | This series of night pictures of cats in Tokyo was my top post in 2016. |
| Shockingly Delicious | http://www.shockinglydelicious.com/3-ingredient-chicken-cacciatore-in-the-slow-cooker-for-weekdaysupper/ | The simplest things sometimes have the most impact. |
| Adrians Crazy Life | http://adrianscrazylife.com/2016/06/how-to-use-new-tailwind-tribes-feature.html | My most popular post of 2016. I'm getting a lot more interest in these techy-tips type post. |
| Natural Beach Living | http://www.naturalbeachliving.com/2016/02/daily-visual-schedule.html | This wonderful Daily Visual Schedule is exactly what every family needs to calm the chaos and have everything run smoothly. |
| Making Life Blissful | http://www.makinglifeblissful.com/2015/04/altoid-tin-reuse-bug-craft-toy.html | |
| Just Plain Living | http://www.justplainmarie.ca/how-to-keep-house-like-mennonite/ | This continues to be my most popular post, month after month! |
| Shrinking Momster | http://shrinkingmomster.com/dear-type-1-diabetes-community/ | This post was from the heart and received heavy traffic. |
| The Two Bite Club | http://www.thetwobiteclub.com/2014/05/kielbasa-pepper-onion-and-potato-hash.html | With close to 1 million pins on Pinterest, this recipe continues to be my top post year after year! |
| Thrivng Home | http://thrivinghomeblog.com/2013/07/chicken-parmesan-casserole-recipe-an-easy-freezer-meal/ | 1.5 million pins on Pinterest. People love this easy freezer meal! |
| Utah's Adventure Family | http://utahsadventurefamily.com/easy-waterfall-hikes-utah/ | This post about waterfall hikes is still doing well and it's December! 😉 |
| C'mon Get Crafty | http://cmongetcrafty.com/baby-series-printable-baby-book-pages/ | |
| Homestead Honey | http://homestead-honey.com/2016/05/13/how-we-afford-to-homestead/ | A candid look at how my family affords to work part-time, homeschool, and homestead. |
| Little Dairy on the Prairie | http://www.littledairyontheprairie.com/no-bake-caramel-cookies/ | No bake recipes alwaysdo well on my blog! |
| One Grateful Girl | http://www.onegratefulgirl.com/thank-note-patty-wetterling/ | This heartfelt post was my first post to go viral and first time being published on Huffington Post. |
| Shambray | http://www.shambray.com/2016/06/happy-through-trials-how-daughter-with.html | This was actually a guest post as part of a series. The whole series is fantastic and I am happy I did it. |
Well now that you've seen the best of the best run with it and  LET'S MAKE 2017 THE BEST BLOGGING YEAR YET!!!