The 3rd quarter begins right smack-dab in the middle of summer. For most publishers, means a lot more than just warm weather, but also a giant dip in traffic. This shouldn't come as a surprise though. People are closing their laptops to head out and enjoy the weather, go on vacation, or throw summer parties. It's what we like to call the 'summer slump' and it has been a pain point for the majority of publishers in the industry. Luckily, this only applies to half of the 3rd quarter.
Advertisers (especially the seasoned ones) are well aware of this warm weather trend and they plan their year accordingly. Sadly, the 'Summer Slump' historically presents a golden opportunity for advertisers to catch a breather and wind down their spending prior to the Q4 holiday rush. Of course, this results in a dip in revenue across the board. This conventional wisdom is passed down from senior advertisers to their successors and it is just something that we've all come to expect over the years, but things are quickly changing. Get ready, the 3rd quarter could end up benefiting you more than you think!
In case you hadn't noticed, we are all addicted to our smart phones and we know that where the consumer goes, the advertiser will follow. Luckily for us, we live in a digital world and the data is putting these age-old advertising trends to rest. Data is on our side and is pointing toward summers that are full of opportunities for publishers and advertisers alike. The data collected over the last couple of years is showing that consumers are actually just as likely to pick up their phone while lounging on the beach as they are from their living room. We are seeing traffic spikes in mobile year after year and it is no secret that the industry is headed in this direction. In fact, Nathan Putman, our CEO here at Monumetric, just wrote an article digging into the data surrounding mobile and what that means for advertisers and publishers alike. Check it out here. Mobile has become the major game player in our industry year-round, but this is especially true during the summer months. During this time, it is crucial that you embrace and fully optimize mobile ads. If you haven't hopped on the mobile bandwagon yet, the time is now my friend.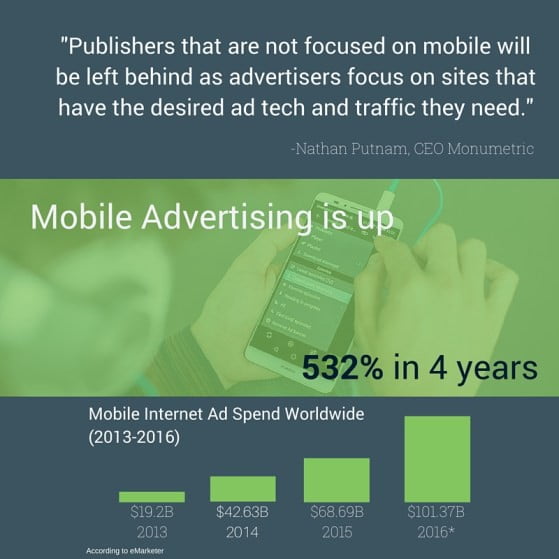 As for the second half of the 3rd quarter, we will start to see the weather cool, traffic increase, and advertisers holiday budgets slowly seep in. And thus begins the steady incline that will lead us right into Q4, which will spike revenues and bring us all a little more holiday cheer.