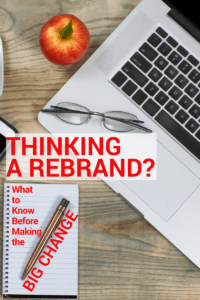 A rebrand is much more than a quick brand makeover and should never be taken lightly. It involves hard work. It won't happen overnight, and revamping so much involves risk. Before jumping on an exciting new idea for a change, make sure you have the time, resources, and passion behind your brand movement.
There are a lot of small brand changes and improvements you can make before deciding to take on an entire rebrand. A rebrand isn't simple but can be a positive game changer for your business. As many of you know, we went through a rebrand just a few months ago as we moved from The Blogger Network to Monumetric. Since then we have seen Monumetric success. To better understand if a rebrand is what your company needs let's define what we mean by rebrand.
What is a rebrand
To rebrand is to change your company's image to alter customers perception about a company, it's products and services. It's a change with a purpose. Rebranding should happen to keep your customer's coming to you over your competitors.
A rebrand can involve anything and everything from a logo change to an entirely new purpose. Not all rebrands work out for the best (Radio Shack, Gap, Tropicana) while others (Old Spice, Apple) kill it and watch business skyrocket.
Reasons Why To Rebrand
Change as Audience/ clients Change

Keep up with Competition

Relevancy

Your Business Growth: Amateur to Professional

Brand Recognition / Identity Improvement

To Establish a Reputation

Change business service – Repositioning
If you thinkyour brand fits even one of these rebranding needs ask yourself one question.
Are you rebrand ready?
If so, there are a long list of crucial changes you need to be aware of to keep your business afloat during this transition. We work with countless  publishers who are so pumped about their rebrand they forget some vital elements and loose traffic. To keep that from happening we want to give you a rebrand checklist.
Focus First
What is your brand's purpose? Why are you rebranding? What do you want everyone to know when hearing your brand name or seeing your logo?
Brands often get tied up in the excitement of changing things up and forget why their rebrand is necessary. Regardless of whatever changes you hope to make during your rebrand, remember one thing: keep your purpose clear and identifiable. Don't forget why you decided to rebrand and how you want to communicate with your audience.
Keeping your message, purpose, and focus in mind will help you make the rest of your rebrand decisions while keeping everything consistent. Some of the biggest rebrand flops were because companies tried to tack on something new and shiny leaving their brand intent in the dust.
URL
If you decide your company is in need of a new URL, there are some tips to vamp up your sites SEO and maybe increase your traffic along the way.
When changing your URL
Create a name that is easily searchable but not overused and unoriginal. You want people to be able to find your site so it should be easy to find. Try to eliminate difficult words/phrases and words that cause a lot of digital competition.

Check all new links and make sure they are connected to the new site and no longer the old one.

Keep track of your sites success by understanding and tracking your sites analytics before and after.

Change vs. starting over. Use the same Google Analytics code that was on your old site and keep the same analytics logins and info as you possibly can.
Now, there will be no point in rebranding if no one will ever see it. Once you've figured out your new URL, you will want to make sure people are able to access it. This step may seem simple, but you have no idea how many times it's overlooked, leaving both readers and advertisers lost.
If you are changing your site name as part of your rebrand, it is CRUCIAL that you not only update and redesign your website to fit your rebrand message, but to create a smooth transition for your viewers to find your page even with a new name.
When switching your site over to a new URL,  you will need to set up a 301 Redirect. If someone tries to go to your old website (which is inevitable), they will then be redirected to your new page.
Here is what our redirect page looks like now seconds before your server directs you to our new webpage.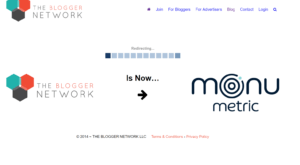 Simply creating a new site isn't enough. You don't want to loose any of your traffic or following during the rebranding process, so it's vital you get this setup.
If you are using WordPress here is a link to a simple 301 redirect plugin to create the redirect for you.
https://wordpress.org/plugins/simple-301-redirects/
For those of you using another web host here is a link or resources to get you properly set up for your redirect.
http://www.dailyblogtips.com/how-to-setup-a-301-redirect/
Working Your Website

A rebrand includes not only a product or service rebrand but a digital rebrand as well.  All changes you make to your brand should first appear on your site. If you're making changes to your services, products, clientele, purpose, colors and or logo do the same to your website. And while you're at it why not take a second to ask yourself.
Is your site up to date? Will readers find it easy to access the information they are looking for? Does my site reflect my company? If not now would be an excellent time to make those changes. (Hint, hint)
Be as proud of your site as you are about what your company does and who they are, often your website is how people identify you.
Changing our site over to Monumetric was not easy. It took lots of hard work and countless late nights. Since our business is mostly done online, it was crucial for us to be clear about who we are and what we do. 
Once you create a new site you have to commit to it. We are constantly updating and adding to our sites months after our rebrand, and you will have to do the same as well.
Social Media Management
Your brand lives ineverything it touches, including social media and therefore, surprise, it needs to be rebranded as well. As with keeping your SEO from tanking you want to keep your social media accounts flourishing.
Each social media site is different, but all will let you change your company name if the name isn't already taken. That being said before you start your rebrand you want to do your research well in advance. Some sites will let you change your name easily, while others will give your grief about your new URL. For each popular site, we have included instructions to change your company name while keeping your same social media presence.
Let your followers know in advance about the rebrand and what to look for. Make sure all synced accounts and linked posts that may refer to your old page are updated as not to lose any followers.
Aside from having the correct new name, all accounts should be consistent in style, color, voice, etc. Don't be afraid to update your photos and design elements and be proud of it. Change doesn't have to be a bad thing, you've decided on something different now roll with it. Just don't leave any platform out.
Rebrand Reveal
It doesn't have to big some big secret you're changing things up. If people are following you, it won't take them long to notice a difference anyways so let everyone know! A rebrand should be publicized in any way possible. It's like getting another chance, starting over in a sense, with a new opportunity.
What will viewers see in the near future? What major changes can they expect? Why did you decide to rebrand? What's the difference?
Your readers liked you before so why will they like you even more now? After all, you did this with them in mind right?
Spread the word.
When we rebranded, we were so excited about the changes we posted on all our social media accounts, blogged, emailed all of our clients, and told everyone we could about the birth of our revamped company. Our most exciting piece of promotion was our rebrand video explaining why we rebranded and the birth of Monumetric.
See why we rebranded in our rebrand video here.
People are bound to ask questions. Your new brand will be new to them, just be ready. Make sure everyone in the company is on board and aware of the changes so that all your readers get consistent answers.
Track your results and discover if your rebrand is working. Remember those analytics we told you to pull at the beginning? Well, after some time with your rebrand it's time to compare and trust us it won't take long to see a difference.
A rebrand may have it's similarities to a makeover, but let's be honest this much work doesn't just get decided on impulse. There is a lot of planning and hours needed to pull off a successful rebrand. If you have your audience and purpose in mind, you'll be surprised not only how possible a rebrand is but how worth it a change may be for your future business.