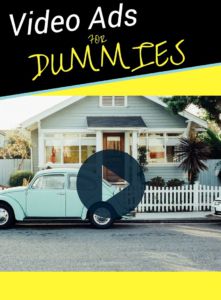 Video is everywhere. The stats are clear. User engagement with video blows any other type of content out of the water. It's simply easier to watch something than read it.  Video and video ads are not the future; they are the right now.
The Ad world is no different. Ad providers know that people are more engaged in a video advertisement over a static ad. They too want to get their message across in the clearest most efficient way possible.
If your viewers react well to video, and ad providers are willing to PAY MORE for video ads on your site, it just makes sense to start incorporating them in your ad strategy right?
And although it would seem that simple we do know video ads can
SEEM
 very intrusive and honestly scary…
But honestly, they aren't. Let us show you all you need to know to decide for yourself whether to incorporate video ads into your site.
WHY VIDEO?
Video ads are all the rage right now and for good reason. Where a display ad can have some movement, video can have more. In a video, the creator has more freedom to tell a story by combining BOTH visual and audio together to grab the audience's attention. For this reason, they are a big deal regarding their impact and adding revenue for your site. Since video is such a powerful medium, it has a higher financial return to a website.
There really isn't any reason to be afraid of video ads.
The biggest reason website owners do not want to run video ads is that they can go full screen, play audio, and distract the user from the content on the page. If this happens, we automatically assume the user will leave and never return.
 This is not the case.
Publishers have many options on there end when it comes to choosing how they want video runs to play on their site. You decide what types of video ads you want on your site and in essence how they run on your site.   You have spent a lot of time, energy, and money making videos that engage your visitors on your site, don't you want to see a return on that investment? Video ads are one of the highest paying most engaging ways to see the payoff of all your hard work.
Think about your web browsing history. Video ads are everywhere. Some are more intrusive than others, but they have become a part of our internet experience. Half of the time we don't notice them at all, the other half we expect them. At Monumetric we custom design the ad strategy for your site based on what you want so you don't have to worry about seeing a type of ad you didn't choose for your site.
See there is no reason to be afraid!
WHEN TO INCORPORATE VIDEO ADS?
Although video ads can be incorporated into many different ad strategies, they do perform better under certain circumstances. The best time to start using video ads when you have high impact content.  Video ads work together with your content to engage your audience. They pay more per view as well, so you will be able to see more revenue from the video ads that you run on your page.
Getting advertisers to pay well all comes down to how viewable your ads are. If advertisers know that the video player is above-the-fold, or can be seen on the page without any scrolling,  then more people will see the ad and the advertiser will pay more.
There are a few other factors that can allow you to get paid a higher amount like click-to-play.  Since the user is clicking on the video, they agree that they will watch an ad before they watch the video or engage in the content so viewability rates are higher and in turn, what you get paid is higher.
HOW DO VIDEO ADS WORK?
If you are running display ads on your site video works more or less the same way. When the page loads, an ad call is made to the ad server asking them for an ad (video uses VAST and VPAID tags). Then once an ad is placed in the ad slot it is shown to the viewer. 
New advancements in technology allow the page to load independently and then have the video ad load after the page and content loads first.  Adding this high speed gets the ad in front of your viewer quickly to leave an impression on them.
WHAT DO THEY LOOK LIKE?
There are many different types of video ads. Here is a list of the most common video ads and what they look like.
Remember most video ads don't have audio unless they are clicked on your interacted with.
OUT STREAM VIDEO: A video ad that magically appears WITHIN content as you scroll down a page. These ads do not have audio and disappear when it finishes playing.
SIDEBAR VIDEO ADS: Play in your sidebar as an in-banner video. It is formatted much like a basic display ad on your site but, it moves.
PRE-ROLL VIDEO ADS: Video ads that play before one of YOUR own video's plays. It's like a pre-commercial. You see these a lot with online TV show/movie streaming.
STILL NOT CONVINCED?
That's ok, don't just take it from us. Before you write off video ads, read former video ad fearful and publisher Ronnie of CareerNook.com's story.
"It all started about 10 years ago…CareerNook is now my baby," Ronnie says.
Ronnie started CareerNook.com in 2013 to share her career experience  with other working individuals.
"I created Career Nook exactly as I wanted, applying what I had learned over the years to my new site. People looking for jobs feel lost and frustrated by the process, and I wanted a place that feels safe and friendly to them — but I also wanted a blog that could attract enough organic traffic to provide extra income for myself, " says Ronnie.
Her blogs integrity always comes first she says, especially when it comes to any Ad decisions. She closely monitors her Google analytics during every little change to make sure everything stays on course.
"When Monumetric  offered me the chance to try video ads on my site, I quite emphatically said "no" at first. In fact, the idea kind of offended me. That's not the experience I wanted for my precious readers, who are mostly there to get help during really tough job search times. I worried it would not only annoy them, but send them running," she says.
Ronnie, like so many publishers, was afraid adding Video Ads on her site would crush her following.
Yet she took the risk and was shocked at what she found.
In her own words she says, "But lo and behold, the ads, work really well. I still get as many comments from people asking for help. And the ads can easily be ignored, if desired, by readers looking for support and answers, not ads. Plus the additional income is wonderful. But best of all, my Google analytics (pageviews, returning visitors, bounce rate, etc.) did not get worse — they actually improved. My baby is safe!"
At Monumetric we put the publisher first. Your concerns are our concerns. We would never put any damaging technology on your site. Your success is our success.
"Though very reluctant at first, I eventually learned to LOVE my video ads , AND don't tell anyone, but every now and then I even watch one just for fun," Ronnie says.
SO HOW CAN I GET THEM ON MY SITE?
 Video ads are not hard to get.
At Monumetric we have various solutions for publishers to get video ads on their site. Whether you have your own video content, or not we can build a video Ad strategy to boost your Ad revenue for your site. Our team builds custom solutions for your website to get video ads up and running as quickly as possible on your site.
Not running video ads  yet on your site? Contact your account managers to get your video Ad strategy up and running.
Not working with Monumetric just yet? See what you could be making with a FREE SITE ANALYSIS by the monetization experts of Monumetric .