Here at Monumetric, we love the first of the month because it means income reports are coming out! Not only do generous publishers share what they made, but they share their traffic and what they are doing to grow their sites. There is so much information and value in reading them. Income reports link to beneficial tools, they spark new ideas, and you give a sneak peak into how successful businesses works. Not only that, it's great motivation for other publishers who are trying to grow their sites and income.
Of course, we're especially happy when websites who use Monumetric for their ads show what they have made from being partners with us. We don't always know what publishers think, but by accessing these types of reports we can see how our monetization strategies are contributing to publishers livelihoods. Also, by releasing an income report yourself you might find some extra motivation in becoming accountable to your goals publicly.
For this post, we tried to select websites from a variety of niches and topics as well as various levels of earning. Keep in mind how different each site is and which monetization tactics each publisher used.
Here are the monthly reports we love to read, most are from February 2015:
#1 Pinch of Yum

Food bloggers Lindsay and Bjork are veteran blog income report publishers and many other bloggers have followed their lead. They started in 2011 with $21.97 with about 50,000 pageviews per month when they partnered with Foodie Blogroll. As of February of 2015, just 4 years later, they are just over $26,000 per month and at almost 3 million pageviews. If you look through you'll notice that they vacillate but that at some point they made the jump from being in the under $10k per month to over $20k. It all started with about the cost of a lunch out. So remember this when you're feeling overwhelmed, it's ok to take baby steps because over time those steps can add up to a lot!
In early 2014, ads made up about 20–40% of their revenue.They have been experimenting with ads and report all that they are doing. Since they have their own products they can leverage ad space to promote them.
In addition to a look at their income, Lindsay and Bjork also talk about their personal goals and what they are working on. The conduct experiments and share books they are reading. It's quite inspiring. Their posts are long and thorough, beautiful and a little different every time.
Income: $26,245.58
Pageviews: 2,998,384
#2 Pulling Curls

Hilary at Pulling Curls not only does income reports, she has a blogging income spreadsheet that she sells for $2 to help bloggers track their income (hello tax season!). For February 2015, she made $978.94. We should point out that most income reports not only show income coming in but they detail what they spend money on — or at least ongoing expenses such a tools that have a monthly fee. Of course, there are usually more expenses such as travel, food, and conferences. However, you can see why as a brand, many bloggers need to be paid for their time. When you add up the hours and expenses, many bloggers aren't making that much. We hope to be part of changing that for more bloggers and as we add more ways to monetize.
Income: $978.94
Unique views: 121,044
#3 Retired by 40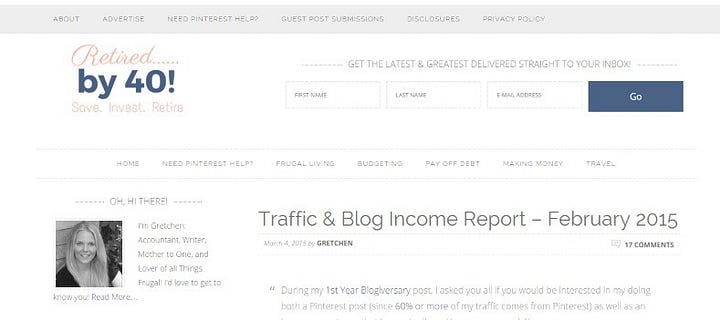 Gretchen started doing income reports just after her one year blog anniversary, in 2014. She says: I believe that more bloggers should reveal their income, as well as some stats about their traffic to inspire and encourage others, so I'm am giving monthly updates about my income and traffic statistics.
She tries to track how much she makes per hour, which is helpful to know so you know what your time is worth. Then you can gauge that against what to charge for sponsored posts or consulting. Last month she made $16.36 per hour. If she worked full time on her blog, that works out to be about $34,000 per year. Given how much more taxes you have to pay when you're self-employed, that's not enough to retire on, but it is flexible and you decide how to spend your time.
At the end of each post she lists her goals and if she met them (success) or didn't (fail). It's pretty fun!
We especially loved reading this: If you have more than 100,000 monthly page views, you should definitely consider apply to Monumetric. Not only do they manage your ads for you, you'll earn more money, and it's free! You have to apply to be a part of it, but trust me, you won't regret it!
Apply here ? www.Monumetric.com/Join
Total income: February 2015 $1,313.08
Pageviews for February 2015:
#4 Digital Nomad Wannabe

Starting in 2014 with about $800 a month, Sharon's goal is to reach $3,500 per month (Australian AUD). Sharon lives in Australia and has more than doubled what she makes blogging. She is well on her way to meeting her goal. She emphasizes growing her affiliate income, which is a great source of passive income, along with display advertising. In addition, she has niche sites which contribute to her income and are included in her total below.
Follow her monthly blog reports here.
Income $1,696
Pageviews: 55,234
Earnings for Feb 2015: $2,991 (USD$2,309)
#5 Travel Blog Breakthrough
I met Will at Affiliate Summit this year and learned about his travel blog. He addresses something that many bloggers, even those who aren't travel bloggers talk about, which is how much work it is to travel for a sponsor. While free travel sounds great, you need to think about the expectations and commitments. He asks 5 questions you should ask to evaluate if it's worth it.
In his list of top traffic sources there is something that everyone should check out, which is Revive Old Post. We also appreciate Will's plug for Monumetric.
February 2015 Income: $1662.96
Pageviews: 25,006

Michelle left her day job as a financial analyst in 2013. She mentions in her report that she wants to do more interviews, so if you interview successful bloggers, you may want to pitch her! She's one of the only publishers who hints at the value of doing PR for your own site to continue to get your story out there and reach new audiences.
Michelle also uses affiliate marketing and by watching what she promotes and how she promotes it, you can get ideas for programs you could join.
While she doesn't list her traffic sources or go into that aspect, she did share how much Pinterest traffic she gets. Brace for it. "Pinterest alone brought around 55,000 clicks to my blog just in the month of February!" We looked at her Pinterest account and she has just over 3,000 followers, making that number even more impressive. It looks like she needs to create a product to share how she does that. If you look at her images that might be a clue — they are gorgeous and pinnable!
Blog Income: $23,758 (without expenses taken out)
Pageviews: None given
#7 Just a Girl and Her Blog

This is a DIY, organization and craft type blog written by Abby and it's so pretty! The first thing I noticed is that there's a popup when you go to the blog. It tells you how to start your own blog and links to a page where she recommends Blue Host, which brought in $5,345 for her in February! If something is working, find a way to promote it more! She also answers technical questions about Blue Host which she notes helped her grow her commissions.
Her own ebooks also do quite well. She uses a program I haven't heard of called SendOwl for her own affiliate program. It's so easy to sign up as an affiliate, get a link and pay, but there is nothing fancy (like banners or other options). It's just grab a link, the only link. You have to host them on your site. She also has banners on her blog.
I always appreciate when income reports also list the top performing posts and she does that.
Her blog income $10,322
Pageviews: 364,986
#8 Moms-Make-Money.com

Rather than an income report for a single blog, this one is for two sites but the main one is a sewing blog. There isn't a lot of detail, it's pretty cut and dry. However, she does compare her current stats to the past year. What is crazy is how much she makes from ShareASale: $11,541.73 in January 2015. Her February report wasn't up yet so these are all January numbers. Craftsy alone (which is on ShareASale) brought in $2,452.80 (selling sewing patterns).
Income: $18,376.70
Pageviews: 586,615 (Sew So Easy)
11,902 (Moms Make Money)
#9 My Tan Feet

I also met Yeison and Samantha at Affiliate Summit. They came looking like the world travelers they are, with full backpacks. They were so much fun to meet! From Costa Rica, they are interesting in that they set up their own affiliate network with local businesses. If your blog is hyper-local or you have a hard time finding affiliate programs that fit, consider setting up your own with your favorite businesses.
My Tan Feet recently switched how they report their income but it's really more than that, it's a lifestyle they are embracing and money is just a part of that. Notice that it's not an income report, it's a blogging life report. "Since our blog has been doing better every month, we decided to take away from the income report all the non-Mytanfeet activities such as writing, blog consultations and some other streams we were including. I want to do this to give a better idea of how much you can do from purely travel blogging itself."
You can sign up to get their income reports and get a free guide to Costa Rica. I wish I'd had before I went, as the travel agent we was not nearly as helpful. The only question is, why aren't there more links to their affiliate programs?
Income: $2398.82
Page views: 80,525
#10 Matthew Woodward

Matthew is unique because he talks about SEO and online marketing, plus his is a business blog. There's a lot to learn from his approach though, especially for bloggers who want to sell their own products. In his income report, he summarizes his most recent posts, which is smart to recap the most viral (and keep people on your site longer, plus great deep linking).
Matthew also shares tools he uses and experiments with, many of which are new to us. Unlike many publishers, he's using Facebook and other ads to drive traffic to his most popular posts and getting pretty low cost per click.
If you're a business blogger be sure to check out his long list of affiliate programs he uses to get ideas of some that you can join. They are listed with exactly how much he made from each one. It's all over the map and you can see how doing a case study can really impact your earnings. On affiliate income alone he made over $9,000!
Income: $16,775.90
Pageviews: 309,031
Pro tip: when you link to your affiliate programs in an income report, use an affiliate link. If the program has a 2-tier affiliate program, you can make money referring others to sign up. That's a win/win.
There you go. There is so much valuable blogging information in all of these income reports. It's all free. If you feel stuck or want to make more on your site, you really should read these. Just one more thing. From the MarriageMore blog…