The affiliate marketing channel represents 16% of total revenue for top publishers, according to a recent survey. Yet, many publishers will say that affiliate marketing does not work for them or they see minimal returns for their efforts. If you feels that you might be more of the latter, there's a lot you can do to increase your affiliate potential! Below are seven ways to review your affiliate efforts and increase your commissions.
1. Don't Be Shy
Your loyal followers appreciate the work you do. With so many new publishers popping up online, they continue to invest their time with you. So here is a little secret: your followers want to help you! Don't be shy about promoting and disclosing that you are trying to make money to support your site.
There is no shame in promoting products to support your publishing efforts. Let your readers know if they make a purchase through one of your links, they are supporting you. Your followers are your friends. Friends like to help friends.
Here is a great introduction to a successful affiliate blog post.

The following adjustments make this post FTC compliant (Federal Trade Commission requires you disclose any marketing relationships) and simultaneously invites the reader to help:
"Welcome new friends! You've just landed yourself on my #1 most pinned post! This blog is all about ideas for the family (great recipes, gift ideas, parenting tricks, etc.). Throughout my site, any products highlighted in red are affiliate links. Should you purchase any of the products by clicking through links, you'll be helping me continue to create resources for new and veteran moms."
2. Call To Action
Have a solid call to action and commit to it. Similar to the 'don't be shy' advice, don't be afraid to ask for the action you want. Many publishers insert subtle affiliate links in hopes their followers understand what the colored or underlined text means. Subtle doesn't make money. You are not getting paid for brand equity, you are getting paid for sales.
Example of an unclear call to action:

The addition of the sentence below would significantly increase click-throughs, and therefore, sales.
"You can purchase my favorite reusable straws today by clicking here. You won't regret it!"
3. Lights, Camera, Action!
Personal videos with the product included are a great way to demonstrate their value to your readers. You will build trust with your followers by showing that you do indeed personally use the product. By using video reviews, not only does your engagement increase, but your SEO will perform better as well. So don't be shy, get in front of that camera!
You can do a tutorial like this or a product review.
4. Get Social
Remember rules 1–3 when promoting on social media. I see the best results when bloggers offer a direct affiliate link using a vanity or shortened URL like tinyurl.com or bit.ly. However, there are cases where a detailed review is required so a link to the original blog post is needed. Either way, make sure the call to action is upfront and obvious.
Here is a great snippet of post from a blogger friend of mine.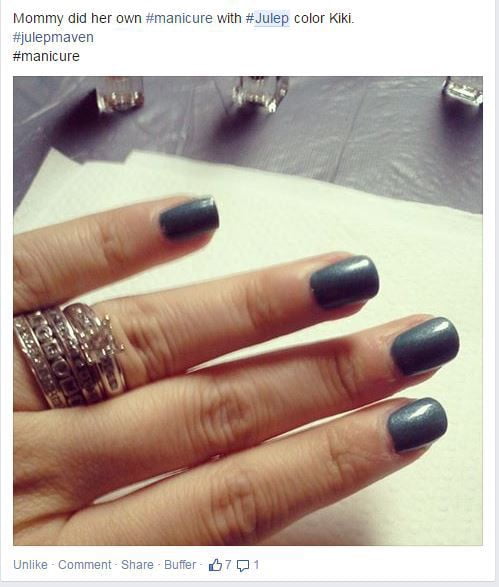 This post has a great branded, personal photo but lacks a call to action. I would simply add the following sentence:
"Treat yourself to an in-home manicure. You are worth it! Get free shipping today by clicking here."
Social media is a great place to include an offer because the posts are not evergreen. Look at your merchant's site to see if there is an existing offer or, even better, ask for an exclusive offer from your affiliate manager. If you are promoting an offer, I recommend a direct affiliate link.
Remember if you are promoting affiliate links on social media, you must use the FTC hashtags #ad or #sponsored (can be abbreviated to #spon).
5. Get Committed
When promoting a product, don't distract your followers with ads you don't stand behind.
Did you know that Adsense's algorithm could provide a competitive or even the same brand that you are currently promoting? Makes sense right? Adsense is using keywords to determine the targeted audience for its ads. You are using keywords to pull in the target audience for your promotional product. This means you could be getting a substantially smaller commission for your hard work if the user clicks on Adsense versus your affiliate link.
In short, take the leap and ditch the Adsense for targeting marketing initiatives.
6. Blast It
As a publisher, you should already be building your email list. Don't forget to use this list to promote your affiliate links as well. It can be a section within your existing email publication or a separate email depending on your initiatives.
You may get some unsubscribes if you have never tried including a promotion within an email. That is ok! You will get many more subscribers from followers who value your opinion and respect your need to earn a living.
7. Have Patience and Be True to Yourself
Your affiliate marketing revenue will build over time as your posts optimize within the search engines and you hone your affiliate marketing skills. Have patience and always be true to yourself. Do not promote products unless you have personally used them and believe in them 100%. Make sure you have a good ratio of affiliate to non-affiliate posts so you can fully express yourself on your blog. Be true to yourself and your followers will be true to you.
I hope you find these tips useful. As an affiliate manager, I love working with publishers to help them realize their revenue potential. For more tips or to see if one of my programs work for you, visit my website at http://www.robbinsinteractive.com.
I have a monthly newsletter chocked full of affiliate marketing tips and videos. You can sign up here.http://robbinsinteractive.com/wp/category/robbinsinteractive_blog/

Stephanie Robbins, Founder of Robbins Interactive, is an Affiliate Program Manager who connects brands to niche online influencers to incrementally grow revenue through affiliate programs — without cannibalizing existing sales. With 20+ years of digital marketing experience, she represents a select few brands that she can authentically promote to affiliate community that trusts her.