Guest Post by Martin Leneundonk of Cleverism.com
According to a recent survey, established part-time bloggers across the internet bring in an average of $33,000 per annum. Full-time bloggers earn much higher, working less than 30 hours per week to earn as high as $200,000 annually. Tim Sykes, a renowned blogger makes a million dollars monthly teaching people how to trade penny stocks on his blog. However, these figures are only considering the 31% of bloggers currently making money through their sites, as 69% of bloggers make no income through their sites at all. This article is aimed at helping you become part of the 31% that consistently make money from their blogs.
You may be wondering if you have what it takes to build a high-income blog. It's not rocket science. If you are a working-class American, you already have certain skills that you apply at work. Even if you do not, you have hobbies ̶ everybody has one of those. However, we understand that the journey to blogging success is not easy. In this article, we will be showing you 3 steps that will help you to turn your skills and hobbies into a thriving blog.
Step 1: Launch Your Site in a Profitable Niche
When you visit a hospital to check a red eye, you're treated by an optician ̶ not a general surgeon. They are both medical professionals, but there is a difference. The optician is specialized in resolving all issues relating to eyesight. That is how niches work. You have to pick a specialized segment of a broad topic and base your blog on that.
When after you have blogged about that topic for a sufficient period, you become regarded as an authority. How is this useful? People look to the internet to find solutions to specific problems. And they want to trust the solutions they find. They are more likely to trust those solutions if they trust the blog they found them on. This "trust" is what separates a casual blogger from one that takes home cool money every week.
Below are 4 steps to choosing a profitable blog niche:
Determine your interests:
What are those topics you can't stop talking about?
What are the fun parts of your routine?
Check out your reading lists.
Go through your browsing history.
What are the things you impulsively collect that have cluttered your desks and shelves?
When you've done a holistic search, you should have a comprehensive list of your interests.
2. Choose the ones you are most passionate about
Now that you know what your main interests are, you have to prune them down to specific subtopics. Determine the ones that you are most passionate about. We all have passing interests that we get tired of in time. When you pick the topics you are most passionate about, you are reducing the risk of getting bored with your niche one year in.
3. Determine the most profitable one.
To succeed as a blogger, you have to choose a profitable niche. Spending hours working on a blog that does not bring commensurate income is going to wear you out. After making a list of the niches you are most passionate about, check Google Trends to compare the popularity of your potential niches. The graph below compares the search frequencies of 3 car brands — Ferrari, Toyota, and McLaren. You can see how much interest Toyota has generated compared to the other 2 brands.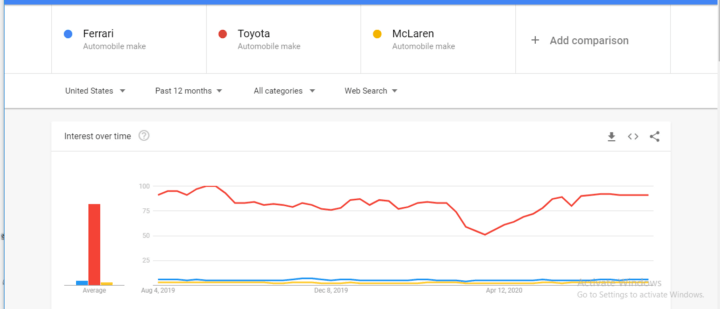 When you choose the niche with the most frequency, the next step is to get further information. Enter your desired niche into the Moz Keyword Explorer tool. It is a free extension tool that you can install on your browser. This tool will show you more keywords associated with your main search item. The image below shows the most popular keywords associated with the Toyota niche. According to the image, the most searched cars are the Camry, Highlander, and Corolla, in that order.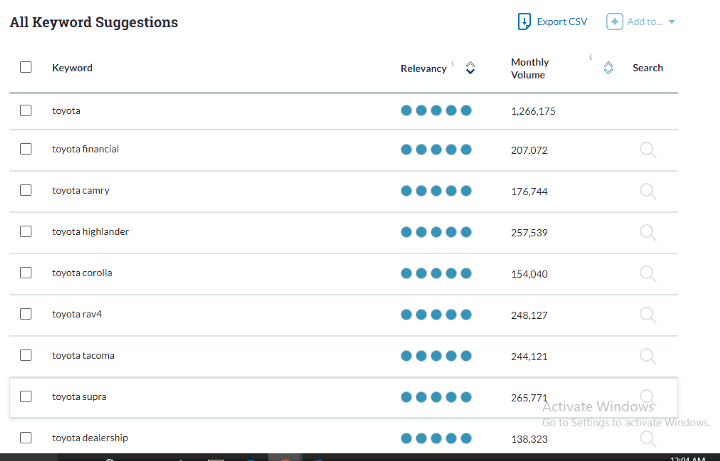 4. Listen to your Audience
We all take baby steps in our businesses. In your first few months, nobody expects you to be a pro. When you've grown a small following. Engage them, ask them to make suggestions. What kind of content do they want to see? Let market demand guide your choice.
Pro tip: Never start with free hosting. You should start your own WordPress based blog on your domain. Then, when picking a web host, you have to decide which one is best for your blog and matches your budget. Every Web hosting service provider has unique pricing, security, user-friendliness, and speed capabilities.
However, to make this even easier for you, below are 5 of the most profitable niches right now
Personal development. People are keen on becoming better versions of themselves. You can blog about self-motivation, productivity, meditation, and career tips. It is even more rewarding because you also embark on the journey to personal development while you teach.
Personal finance. Personal finance is a big issue for almost everybody. Only a select few are rich enough to not care about price tags or to afford accountants. You can teach people how to create budgets to monitor their expenditure, you can also teach them how to invest like Tim Sykes.
Fashion and lifestyle. The fashion industry is a big one, and it is not just about big names in the market. Everybody wants to look good. You can start a fashion blog to show everyday people how to combine their regular clothes for the best effect. You can easily transition to lifestyle blogging, to give your audience a richer view of your daily fashion and etiquette choices.
Technology. This is a pretty huge niche today. There is so much new tech getting unveiled now and then ("fairly often" instead of "now and then"). People want opinions on these things. Pick a sub-niche and get to reviewing the various gadgets ("gadgets or technologies") under it.
Cars. Cars are also a great subject to blog about. Almost everybody owns cars and are looking to find some information to help them understand their cars better. Pick a sub-niche, whether supercars, trucks, SUVs, or minivans.
Step 2: Write SEO-Optimized Blog Posts and Start Building Your Engaged Audience with Email Marketing
The next step is to write and post SEO-optimized articles. 90.63% of all webpages get zero search traffic from Google, and 5.29% get ten or fewer visits per month. There are a lot of blog posts about similar topics on the internet. Search engines are designed to seek out the ones that provide the best answers.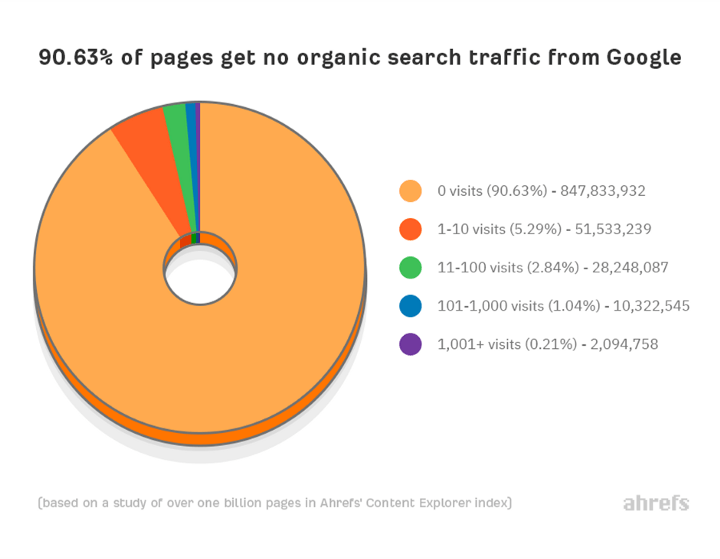 No matter how well you write, your posts will not rank high in search engine results pages if you don't employ SEO. Search engine optimization is how you make your blog posts more visible to these search engines. An increase in the visibility of your posts will directly increase the number of clicks you record.
Furthermore, SEO is not just about increasing the visibility of your posts to search engines. It also entails making your articles reader-friendly. Below are 5 easy tips to follow to make your articles SEO-friendly.
Step 2: Think and research
1. Before you put pen to paper, sit back to think. Think about what you want to tell your readers with the post and then, write down your ideas. Research relevant information to be included in your post. This is important because, no matter how well-optimized your post is, it's ranking will be limited if it lacks relevant content.
Also, you should find out the keywords that are associated with the topic, so you can use them accordingly. You can do that, using the Google keyword tool.
2. Utilize Keywords
Now that you know the relevant keywords, you have to use them efficiently. You can put keywords in the topic, sub-headers, body, and even images of the article. However, you have to watch the frequency to avoid overstuffing. Only use the keywords in sentences where they fit naturally.
3. Optimize Your Images
All the images you upload must be appropriately formatted and titled. Write up full descriptions for all your images, and ensure that they contain keywords.
4. Use Links
Another way to get your article to rank higher is to use links to external articles. The bloggers whom you link to may reciprocate by putting links to your blog in their posts. The more backlinks you get, the higher your blog is ranked by the search engines. Also, links will help your readers to access the resources they need to understand your posts better.
5. Optimize the body of the post
The structure of the body of your blog post needs to follow some simple rules:
Only use the H1 format once, preferably for the title.
Differentiate your post into parts with different headings
Use the various heading formats (H1, H2, H3) hierarchically. In other words, only use H2 under an H1 heading and H3 under H2.
Keep your paragraphs short. This will make it easier for readers to read. Especially, since most people will be reading it on their mobile phones.
Embolden, italicize or underline suitable parts of your post to make reading more fun and to highlight the most important information.
Another way to build your blog's audience and profitability is to employ email marketing.
There are several ways to build your audience through social media. A lot of bloggers use Facebook, Twitter, and LinkedIn to build audiences for their blogs. However, the most powerful audience-building medium yet is email marketing.
Social media apps are subject to the control of their parent companies. A simple change in usage policy could drastically reduce your audience. Sometimes, your account may get permanently suspended and, in such instances, your followership disappears.
However, with email marketing, you have the freedom to do whatever you want. You can send messages to as many people as you'd like without the fear of losing your account. Most importantly, your mailing list will permanently remain available for you to use. Below, we will show you a few effective email marketing strategies.
Build a Subscriber list
First, you need to build a subscriber list. Avoid the temptation to buy email lists. That is more likely to irk people than make them customers. What you should do is build your list organically. Put sign-up forms in strategic places on your blog. You can place it as a sidebar, footer, or below every article. You can also make use of pop-ups.
2. Choose the right emailing platform
There are several emailing platforms you can use. The most common ones right now are MailChimp, Constant Contact, Get Response, and Aweber. There are others like HubSpot and Sendinblue. They have different features and prices.
You have to figure out which one integrates best with your blogging platform and offers the best affiliate marketing experience. If you are going to be using WordPress, Sendinblue is your best option. Also, we do not recommend MailChimp if you are going to do affiliate marketing as it is prohibited under their terms of service.
3. Give sneak-peaks to your subscribers
The best way to get your subscribers to visit your blog is to offer them peaks into articles you have posted. Mail them the beginning paragraphs or random excerpts and then, include links to the full article.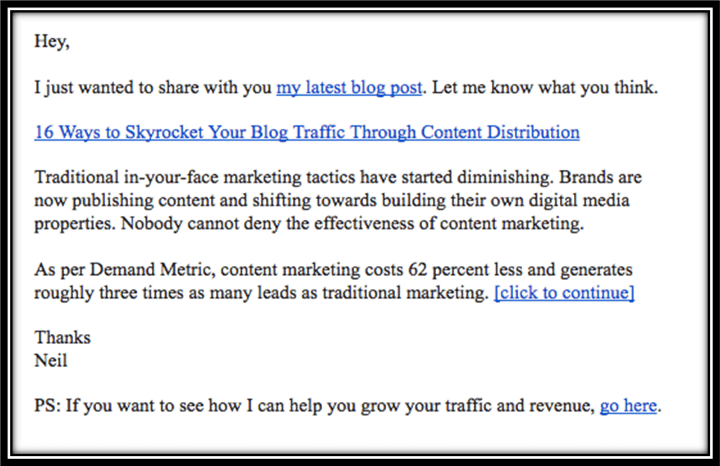 4. Send newsletters and trigger emails
Newsletters are routine emails that contain vital information about your blog. Send newsletters weekly or bi-weekly to keep your audience interested in your content.
Trigger emails are automated emails evoked by specific customer behavior. You can create trigger emails for different purposes. Ranging from sending best wishes to members of your audience on their birthdays to reminding them about uncompleted purchases.
5. Generate revenue using affiliate marketing links
Affiliate marketing is one of the ways you can monetize your blog. When crafting an email, you can place links to products relevant to the subject. This has to be done carefully though. If your mail contains too many links, it might end up in the spam folder. Also, your subscribers may unsubscribe if your emails contain more sales pitches than valuable information.
Step 3: Start Monetizing Your Blog's Audience
Monetizing a blog might just be as difficult as building a huge audience. It is a protracted process that requires patience. As we said at the beginning of this article, 69% of bloggers do not make any money. However, many bloggers have successfully turned their blogs into a flourishing income source. Tim Sykes and other high earning bloggers earn between $20,000 and $1 Million per month. (technically it should be either $1,000,000 or $1M, but i guess not too critical.)
There is no threshold audience size that you are expected to achieve before you can monetize your blog. Once you have a few thousand unique visitors per month, you are good to go. Below are some of the many ways you can earn revenue from your blog.
Freelancing
Freelancing is one of the easiest ways to make money from your blog. As a blogger, you already have requisite skills, whether in writing or design. You can use those skills to create content for corporate clients. Content marketing is a growing market. Marketers now spend an estimated $44 Billion on content marketing. And it's still on the rise.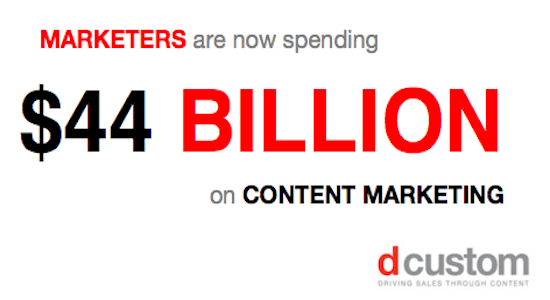 The perk of freelancing is that when clients are satisfied, they are very likely to keep coming back. Plus, they may refer you to their contacts. To break out as a freelancer, you need to market your skills. Invest effort in creating premium content for your blog. Consider it as a resume of some sort. Guest blogging on blogs with a huge audience is another great way to reach potential clients. Also, you can utilize your social media reach and your email list to market your skills.
2. Consulting
Consultation involves giving expert advice to individuals or corporate clients. People come to the internet to find solutions to their problems. The point of blogging is to provide solutions. However, some people or corporate clients may require more detailed and personalized guides.
You can make money by offering one-on-one consultation services to these clients. And just like freelancing, clients will keep coming back if they are satisfied. And they will refer you. Specialized consultation has the added advantage of helping you forge useful connections.
3. Affiliate marketing
Affiliate marketing is one of the most popular ways for bloggers to make money. It involves promoting clients' products for a commission on each sale. About 15% of revenue in the digital economy comes from affiliate marketing. You are expected to work just as a salesman.
All you need to do is
Find a great product (or products) in your niche.
Make an offer to the vendor.
Market the product to your audience.
Earn a commission on every sale made using your affiliate link.
However, affiliate marketing is a delicate process. It should not reduce the value your audience gets from your posts. Your audience will start to lose interest if they believe you are more interested in selling products to them than providing value.
4. Advertisements
Display ads are one of the easiest ways for bloggers to make money off their blog's traffic. Organizations place their ads in banners on your blog page and you get paid per view. You could also get paid for each click. The revenue it offers is little but constant as long as your blog continues to get traffic.
Google AdSense is the biggest ad network right now. However, they pay little or nothing for views. You could earn as low as $0.40 per 1000 views. We recommend that you use Monumetric instead because, when we switched our career blog Cleverism.com from Google AdSense to Monumetric we increased our RPM by 700%.
5. Digital products
Some digital products that you can sell are:
Ebooks
Themes and templates
Audio materials
Podcasts
Software
Some of these things are tools you already use to create content for your blog. For example, if you are a photographer and you blog about photography, you will have some unique tools and templates you use. You can sell these to your audience.
6. Online Courses
Another way to monetize your audience is to create and sell online courses. It is passive income. All you need to do is create and upload the courses. And you get paid every time someone pays for it. The e-learning market is expanding fast and is expected to be worth $406 Billion as early as 2024.
Find a subject you want to focus on. If you are having trouble deciding, you can carry out surveys to find out what people want to know.
Create the course material
Find a suitable platform to sell it on
Advertise it to your audience
You can increase engagement by first hosting a free webinar on the subject. People wanting to know more will readily pay for the course.
Conclusion
The primary currency in blogging is the audience. You need to build a dedicated audience. It is only then that you can set about monetizing your blog. Be consistent and focus on building an organic audience.
This is because you don't make money by just writing and uploading posts. Your revenue comes from the audience who find your content valuable. Holistically follow the steps we have written above and you will have income rolling in from your blog in a matter of months.
Many have grown successful blogging businesses, now it's your turn. We've prepared for you a 24,000+ masterpiece on all the major online business models that you can start to turn your skills into a 6-figure business.