Exciting News!
But first, some background
When we first started Monumetric, we set out to empower creators to pursue their passions, profitably. The first and most pressing problem to solve was how to best monetize their programmatic advertising. This was far and away the biggest pain that website owners were facing and the largest opportunity for them to improve their revenue substantially. So we went to work using the knowledge we had on the agency side as well as the website we had monetized ourselves and we started running our's and our friend's sites ads.
Since then we've built one of the best-performing ad technology stacks ever to exist on a revenue per pixel of real estate measurement of anyone in the industry. We're proud of our team, our solutions, and our commitment to always do what's best for our publisher. This important work is far from done though! There are many more layers of solutions to be solved to further increase how profitable it can be to create amazing content for the open web and we are 1000% committed to continuing to build the ultimate monetization solutions for publisher's programmatic ads.
The Continous Frontier
To continue to empower more creators, we wanted to expand our scope from building solutions for only programmatic ads to other ways that creators use to monetize their content. This should include content created by makers on any platform, regardless of whether they run an actual site or not. We wanted to start building tools for creators who operate solely on social media, or who run a newsletter, a video channel, or any other content business that relies on other methods of monetization besides programmatic ad revenue. So we decided to tackle the second most important revenue stream for digital creators, sponsored content.
From our early days in the marketing agency space, we know just how valuable sponsored posts are for brands and creators alike. Creating collaborations with the right creators for the right product and the right audience can have a massive impact for the brands trying to grow. They can also provide amazing revenue for creators to leverage their reach and their audiences in a way that benefits everyone. The problem is, that the process of doing a sponsored deal right is…cumbersome to say the least.
The Problem
If you've run sponsored content, you know the pains of this process all too well. Feel free to skip ahead to the next section if you need to avoid the PTSD here.
First, there is the art of vetting worthwhile deals, sending out media kits (which are hopefully not out of date), and then agreeing on a price and what's included with a campaign. We'll call this "deal negotiation".
From there, you have to create the right posts for the campaign, which we'll call "content creation". This is where you get to make your magic, and it's definitely the best part.
Finally, at the end of a campaign, the brand may require a wrap-up report, or what we call "deal justification". For most publishers, those reports take anywhere from 2–4 hours to create a comprehensive wrap-up report which likely includes screenshots, links to posts, and typically a google doc or sheet showing dates and stats. Some brands may not require these wrap-up reports, especially post-for-product deals, but as sponsored deals grow in dollar amount, the more that marketing teams need to know specifics around reach, engagements, and other analytics to help them calculate their ROI.
Coordinating all of this is a lot of back and forth. You'll usually end the campaign with the souvenir of a crazy-long email thread and some dread that you have more reports to do if you want to hit your revenue goals.
Enter: Maker by Monumetric
Our team sunk their teeth into this problem and are excited to start changing the lives of our current creators and new creators all over the world. We built Maker to automate the media kit upkeep, sponsored post campaign management, and the wrap up reporting, all with only minutes of work from the creators!
Take a Peek Behind the Curtain
Maker Kits > Media Kits
What better way to introduce yourself to brands than by a live and API-verified Maker Kit. Instead of an outdated PDF, Maker Kits are sleek and personalized live displays of your social media and website data so you can truly showcase your own brand. The Maker Kit contains all of the crucial information any potential sponsor will need.
You'll have all of your metrics displayed and the cool thing is that through Maker's API connection, it'll be live data that is being displayed. You'll never have to worry about manually updating your platform's growth because Maker will do it for you!
Maker Kits include all of your stats plus optional modules to show or hide your Pricing and Packages. This makes it easy for you to describe how you work and what they can expect. Leave no room for doubt, they'll know you mean business.
Sponsored Post Management
Setting up your sponsored campaign reports is as easy as 1–2–3. First, connect your social media and website platforms in the "Connections" page.
Next you select the posts to include in the report. Already have a live campaign? No problem! Our campaign creator can track posts that have already been posted by simply entering the URLs or hashtags that you've posted for the campaigns. Or if the campaign hasn't started yet, simply fill ou the hashtag and time frames you'll be posting and Maker will pull those posts as they are published!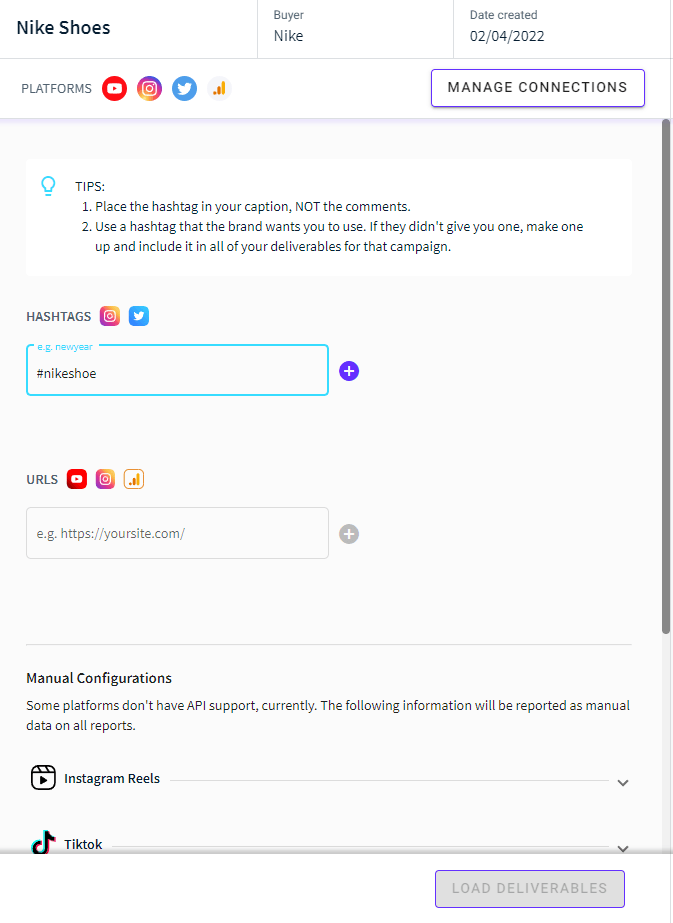 Wrap Up Reports

Now that you've set up your campaign, the Maker wrap-up report will be created right automatically with your campaign's dates and URLs/hashtags. These reports will update daily so your sponsors can watch the campaign unfold in real-time. Share the link at the beginning or the end of a campaign, whatever you choose!
Try it Free
If you're ready to save hours of time, loads of headache, and to show your brands your true value, sign up for Maker's free 14-day trial and enjoy Maker Pro's exclusive beta pricing for a limited time
Here's to a bright future for creators 🥂