I hope by now you have all heard the exciting news that The Blogger Network is now Monumetric! We have changed our brand (and a whole lot more) to better serve you. Along with our new name and our new look, we will continue to provide you with a world of opportunities to help you continue doing what you love, and do it profitably.
It's important to us, that publishers understand why we needed to rebrand and that although we have a new look, we are still the same company with the same values and commitment to your site as always. Everything you need to know about our new name, why we choose it, what it means and the process we went through to get there can be found here: monumetric.com/brand but, today I wanted to talk about why we needed to make this change.
I hope you've had a chance to watch our rebrand video. It was so much fun to make and the folks at Haugen Creative made it SO easy and painless! These guys know their stuff and you will be seeing a lot more of their videos soon. They also come from a vlogging background and work with a lot of publishers in the area, so they were a great fit for the project. We highly recommend them!
Behind the scenes with Haugen Creative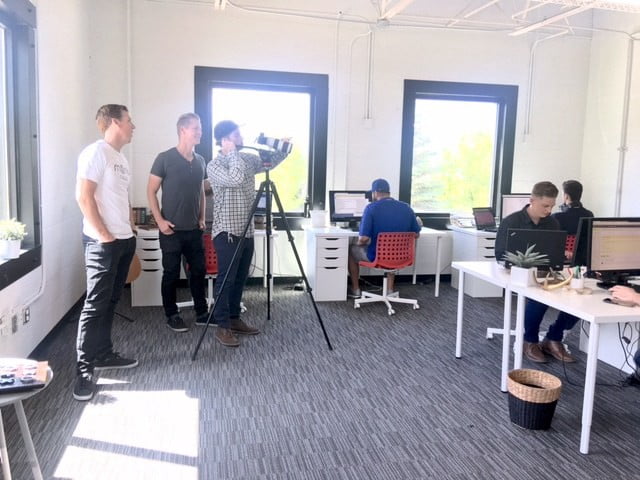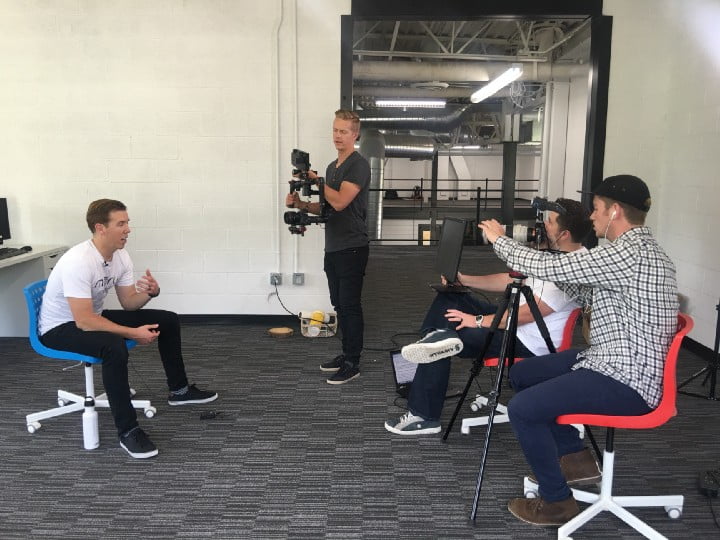 Why a New Name?
Let's talk about why we couldn't keep "Blogger" in our name. The advertising industry is an extremely fast paced and constantly changing world. When we first opened our doors at The Blogger Network, our goal was to be an advocate for bloggers in an industry that can be difficult to understand. We made sure to keep the 'always do what's best for the Blogger' mentality. We feel just as passionate about doing what is best for the blog since day one and we always will. Blogging is ingrained in our roots, however it is only one branch in our ever-growing tree of website owners and publishers.
As we have grown, we found that more than just bloggers are wanting, and needing our services. We realized that our technology should be available to every publisher and content creator out there. We want a brand that speaks to all site owners, regardless of how they define themselves. The reason why we do what we do is not changing, but the who we do it for is expanding.
Why we couldn't keep "Network" in our name. There is nothing wrong with being a true Network. In fact, we work with hundreds of networks daily. But, we don't identify as an "ad network" in the classical sense. Ad networks are notorious for mixing good ad inventory with bad in the hopes of selling it at good rates. Instead we consider ourselves a "publisher network" but are often confused by advertisers as the former. Removing "network" from our name is an effort to mirror the quality and professionalism of our members.
What WON'T be changing?
We are proud of our new brand. It signifies a bold new direction for us and great new things for you, but we want to make one thing very clear. The products and service you have grown accustomed to, will not be changing. Everything you know and love about TBN is staying the same or improving.
What WILL be changing?
We have a new name, an incredible logo and a new site. (Check out this page for more information on how we picked our name and why we went with Monumetric.)
What you need to know:
How to contact us: all The Blogger Network emails will be forwarded to our new emails so feel free to continue using the addresses you are used to, but if you'd like to add our new emails to your contact, simply replace @thebloggernetwork.com with @monumetric.com. For example, my email went from chelsea@thebloggernetwork.com to chelsea@monumetric.com.
Where to log in: You can find your log in information at: account.monumetric.com, if you cannot log in, you may need to reset your password.
Customer Support: We are thrilled to announce that with this rebrand, our support team is growing! This means that the awesome support you receive will only be improving even more! As always, feel free to contact support anytime you have any concerns or questions regarding your site. support@monumetric.com (again support@thebloggernetwork.com will be forwarded along, so no worries there).
Our Slogan: "Measure What Matters"
Our new mantra is 'Measure What Matters', which is a void in the blogging and website owner space. There is so much misinformation out there right now and sadly, we are seeing a lot of companies who are treading in scary water by pushing the boundaries set clearly by advertising partners. It is a dangerous place for a publisher to be and we want our publishers to be confident that we are here to measure what matters, to have their backs when it matters and to provide them with trustworthy data and service. We believe that will truly make a monumental difference in their lives.
We feel so fortunate to work with the most talented, entertaining, and educational publishers on the web. There is nothing more important to us than our publishers and I hope, if nothing else, that you can feel how much we really care.